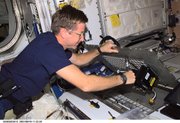 Frank Culbertson Jr. was a NASA astronaut for 18 years. He's flown three space missions and logged more than 144 days in space as a shuttle commander, pilot, and station crewmember.
His last mission launched on the Shuttle Endeavor and lasted 129 days, from Aug. 10-Dec. 17, 2001. During that mission, he lived and worked aboard the International Space Station for 125 days and was the commander for 117 days.
He also held several, key management positions within the NASA Shuttle and ISS programs and was program manager of the Shuttle-Mir program. He's a 1971 graduate of the U.S. Naval Academy at Annapolis. He was a naval aviator, fighter pilot and test pilot, and he retired from the Navy as a captain in 1997.
Culbertson's many honors include the Legion of Merit, Navy Flying Cross, Defense Superior Service Medal, NAA/FAI Gagarin Gold Medal and NASA Distinguished Service Medal. He was inducted into the Astronaut Hall of Fame in 2010.
He's currently the executive vice president and general manager of
the Advanced Programs Group for Orbital Sciences Corp. in Dulles.
His responsibilities include the execution and performance of all Orbital programs related to human space flight, including the Commercial Orbital Transportation System, plus multiple national-security, space- related projects.

Previously, Culbertson was a senior vice president for Human Space Systems at Orbital; before that, he was a senior vice president at SAIC.