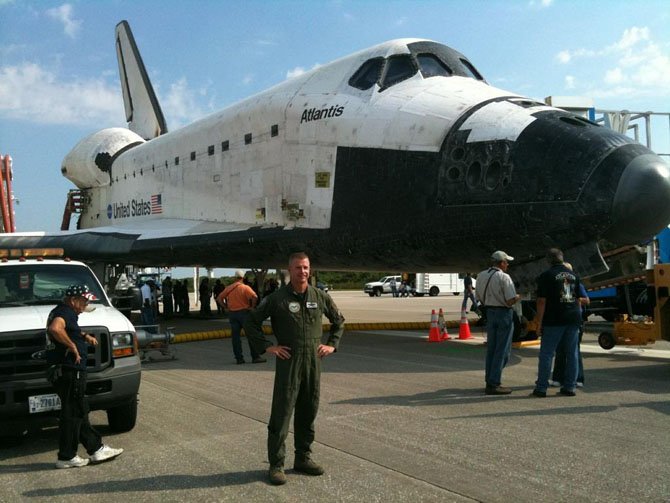 Photo Gallery
Remembering the Space Shuttle Columbia.
Click Photo for Flash
Arlington — He was just 16 minutes from home. As a mission specialist aboard the Space Shuttle Columbia, Arlington native David Brown was going through final landing preparations aboard STS-107 to conclude what for 16 days had been a routine mission.
At 9 a.m. on Feb. 1, 2003, that changed.
"I'll never forget the tears in my father's voice when he called to tell me to turn on the TV," said Alexandria resident Col. Nathan "Chili" Lindsay Jr., whose father, Gen. Nathan Lindsay, was the 45th Air Force wing commander during the Challenger tragedy. "Dad rarely cried but I knew he was reliving the Challenger incident."
Feb. 1, 2013 marks the 10th anniversary of the Space Shuttle Columbia disaster, the third date in less than a week of three tragedies that claimed the lives of 17 astronauts: On Jan. 27, 1967, three astronauts were lost in the Apollo 1 launch pad fire and on Jan. 28, 1986, the Space Shuttle Challenger exploded on take-off, killing all seven astronauts on board.
In addition to Brown, a 1974 graduate of Yorktown High School, other crew members who perished aboard Columbia's final mission were Commander Rick Husband, pilot William C. McCool, Payload Commander Michael P. Anderson, Mission Specialists Kalpana Chawla and Laurel Clark, and Payload Specialist Ilan Ramon.
"Col. Husband was so upbeat and excited about the mission," said Lindsay, a self-described "career space guy" who worked on six of the seven final shuttle missions as part of the Air Force ground support search and rescue team. "Even though he had done this before, he was like a little kid and couldn't wait for the mission to begin."
Lindsay had met Husband during a visit to the Johnson Space Center in Houston while working for Gen. Lance Lord, the Commander of Air Force Space Command. He remembers vividly the conversation they had just days before the Columbia's launch on Jan. 16, 2003.
"Col. Husband talked a lot about Col. Ramon," Lindsay said of the first Israeli astronaut to embark on a mission to explore space. "He couldn't say enough what a great guy he was to work with. It was clear Col. Husband truly loved his crew."
NASA's space shuttle program began with Columbia's maiden launch on April 12, 1981 and ended 30 years later on July 21, 2011 when Atlantis rolled to a stop at the Kennedy Space Center in Florida.
"Working in support of the space shuttle has been the highlight of my career," said Lindsay, who was part of the final Atlantis mission. "While the Columbia incident temporarily suspended the shuttle program, safety features were subsequently designed to allow the crew to escape in a similar situation."
Brown, the son of former Arlington County Circuit Court Judge Paul D. Brown, was laid to rest at Arlington National Cemetery alongside Columbia crewmates Laurel Clark and Michael Anderson. The Arlington County Planetarium was renamed in Brown's honor five years after his death on Feb. 1, 2008.
"I wasn't able to attend Capt. Brown's funeral but was there when Lt. Col. Anderson was buried," Lindsay said. "I spent some time privately with his family prior to the ceremony. That was a very rough. I remember how his children were about the same as mine are now."
Lindsay, who will retire next year after 24 years of active duty, has been marking the anniversary of the space program tragedies with memorials to the astronauts posted on his Facebook page and in emails to friends.
"The anniversary is a time for me to pause and reflect on where I was when I got that call from my dad," Lindsay said. "I will never forget the sadness in his voice or watching the families and the NASA team waiting hopelessly for Columbia to land in Florida. This week especially, I will think about Col. Husband, Lt. Col. Anderson and the rest of the Columbia crew and say a prayer for the families they left behind."