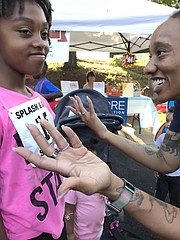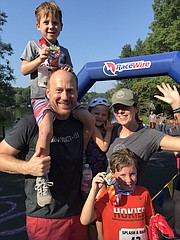 Reston-based nonprofit CORE Foundation presented its Reston Superhero Splash & Dash, a USA Triathlon Splash and Dash Series event for second consecutive year on Sunday morning, Aug. 18. Sponsored in part by the USA Triathlon Foundation and in cooperation with Reston Association, according to organizers, the two-hour event served children 6-15 and introduced youth athletes to the multisport lifestyle through the fast-growing discipline of aquathlon.

The focus was on participation and fun rather than competition, and took place at Reston Association's Lake Audubon pool and on adjacent paths. According to organizers, proceeds benefited "CORE Cares," a CORE Foundation program, which enables triathlon experiences for low-income youth.
Before Reston Superhero Splash and Dash began, the heartbeat of CORE Foundation assisted in various roles bringing with them their positive attitudes. On the racecourse, volunteers Marley Mulvaney, 13, and Bridget Brennan, 13, both of Reston chalked encouraging words onto the asphalt. Later they would work to keep the athletes safe and on course while cheering loudly and wearing their superhero-themed gear. For Mulvaney, volunteering offered a double win. "I do it because I can help out in the community and because it is fun." For Brennan, she learned the value of volunteerism by example. "My dad showed me how to volunteer," she said. According to CORE's volunteer sheet, John Brennan signed up to monitor and control access in and out of the transition area in the Lake Audubon parking lot.
Outside the transition area and before the event started, athlete Shakaya Holland, 10, of Falls Church waited anxiously. Holland was about to participate in her first multisport. Bobbie Brown pinned a bib number to Holland's t-shirt in preparation for her run.

At 8:30 sharp as the crowd cheered, the young athletes, many from Reston as well as surrounding communities, filed onto the pool deck. "Our goal today is for every participant here to leave and cross that finish line feeling like a Superhero. For many of the athletes, this is their first multisport race...Congratulations... for having the courage to try...We are so proud of you," said CORE Executive Director Taralyn Kohler.
Heat after heat of young athletes swam their designated distances, exited the water and set out on the racecourse. Volunteers such as Raba Letteri of Reston and her son Aaron, 15, both dressed in superhero attire, directed the children. "I volunteer to see a child smile," said Raba Letteri. Aaron said he had just completed his 100th hour of volunteering.
Having crossed the race wire, Michael Kemp, 8, of Reston accepted his medal and goody bag of swag, all the time returning high fives from volunteers. "The running was the harder part," said Kemp. "I was already tired from swimming. It was hard to keep up with everybody but all the volunteers cheering me on helped."
To learn more about CORE Foundation as it raises funds to create confidence-building athletic experiences for underserved children in the community along with providing them with shoes, bikes and the tools that they need to be successful, visit corefoundation.org.