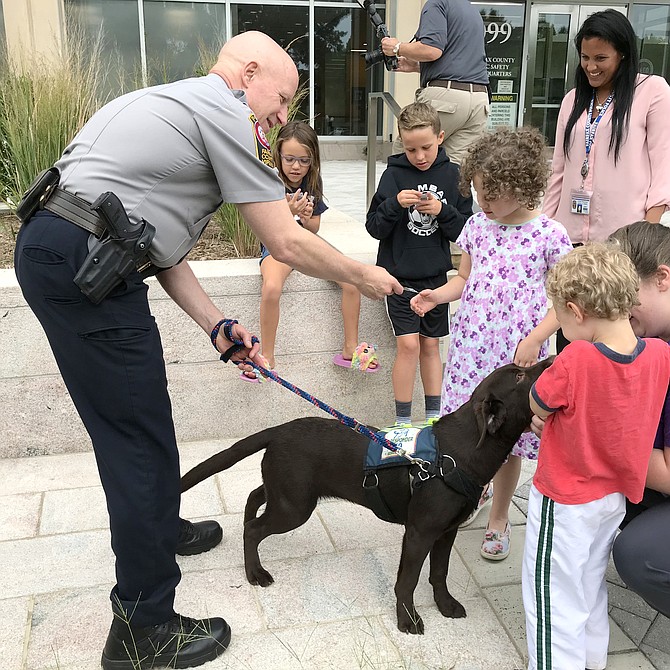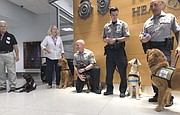 Fairfax County Chief of Police Colonel Edwin C. Roessler Jr. is out to end the silence and stigma that surrounds the issue of mental health in first responders.
"Across this nation, death due to suicide in first responder profession is outpacing line of duty death... And that is not ok," said Chief Roessler Jr. during a Meet & Greet presented by the Police Department Aug. 13, and held at the Public Safety Headquarters in Fairfax.

During the event, Roessler and Jay Carson, Director of Incident Support Services Fairfax County Police Department (FCPD), launched the department's new program to combat suicide and reduce stress after exposure to trauma during critical incidents. Trauma and stress can lead to PTSD and depression.
Roessler and Carson introduced the department's new Service Dog Program and the initial five First Responder Canine (FRK9) puppies assigned to the Incident Support Service Section. The dogs will be deployed to reduce the effects of a traumatic event, including fear and anxiety, for first responders and community members and participate in other areas.
"It is my goal, as your Chief of Police, to lead an effort here in Fairfax County, across the nation, and around the globe to get rid of the stigma of mental health. One of our themes is, it's ok, not to be ok. It's ok to seek help," said Roessler. Roessler explained that the department had formed a partnership with FRK9, a nonprofit organization that provided the department with five purpose-bred puppies and their associated costs, including veterinary care at no charge. According to FRK9's founder, Roger Giese, FRK9 had fielded a total of 14 Golden Retriever and Labrador retriever puppies, specially bred to become service dogs.
FCPD has five puppies from 4-8 months of age, currently being trained by their FCPD handlers. Named after fallen officers to honor those who have served and protected the community, the Service Dogs in Training (SDiT) introduced to the public were: Holmes, named in honor of FCPD Second Lieutenant M. Kevin Holmes; Jack, named in honor of Captain John Kovacs of the Tillsonburg Fire Department; Indy, named in honor of the Indianapolis Fire Department; Sully, named in honor of Master Police Officer Michael Garbarino and Detective Vicky Armel – Fairfax County Police officers who were killed in the line of duty in the parking lot of the Sully District Police Station in 2006; and Lennie, named in honor of Sergeant Lenore Barrow Whitehead of the Newport News Police Department. "I'm proud to be here with my K9 partner, Indy," said Roessler.
ROESSLER said the department's K9s could help support officers and the community at the onset of critical incidents in the field, as a preemptive stress release, and also provide 24/7 emotional support for first responders: police officers, firefighters, dispatchers, sheriffs and deputies in their time of need, when they suffer a disability and have to retire. Roessler added: "We will have a core of K9s that will provide them the support for their Post Traumatic Stress... It is our goal to provide mental health services so we can eradicate suicide and make everybody better to get back into service in a community."
Matt Giese, Director of Operations for FRK9, thanked the FCPD Incident Support unit and all the members within the department for the partnership. Giese explained that two of the FCPD Service Dogs would stay on in the department to deploy during Potentially Traumatic Events (PTEs), "to help further assist those in the community who are suffering from things that occur catastrophically, unfortunately on a daily basis," said Giese. The dogs would help de-escalate the often-strong emotions and stress that come with these events.
ACCORDING TO FCPD, in addition, the dogs would play a role in fostering community relationships with trips to neighborhoods, schools, local events, etc. All the dogs will go through a two-year training program to meet the Americans With Disabilities Act requirements for service dogs. The other three dogs would go to disabled first responders.
"One of the things we plan to do over the course of the next two to three years is to dispatch thirty of these highly-skilled, highly trained, loving animals to first responders in need, said Geise. He added that FRK9 would need continued and ongoing support because everything to date they funded themselves. "If you are willing or interested in helping with what we are doing here in Fairfax and beyond, please go to frk9.org and reach out," said Geise.
More from FCPD
Second Lieutenant Christopher Sharp, Media Relations Bureau: "From the moment Jack and I started this journey; it was evident how happy people were to be around him, even if it was just for five minutes. … That brief encounter, the moment when everything else is set aside, and it's just them and Jack, provides a glimpse of the immeasurable impact he has."
Jill Molley, Clinical Psychologist FCPD: "When Holmes is with me, detectives pause what they are doing and spend a few minutes with him. They instantly smile and gather around him. … Holmes 'changes the subject' when he shows up, which is a nice break from their stressful work."
Colonel Edwin C. Roessler Jr., Chief of Police: "As a chief of police I value innovative methodologies to provide all first responders with the knowledge, skills, and abilities to end the mental health epidemic in our professions. … As I watched officers respond happily to the puppies deployed in our agency over the first seven months in their positive wellness habits, it became an easy decision to become part of the program to assist me in my day-to-day struggles so I partnered with Indy… Indy is teaching me more than I am training her on all aspects of wellness as we continue forward for her to one day serve another first responder."