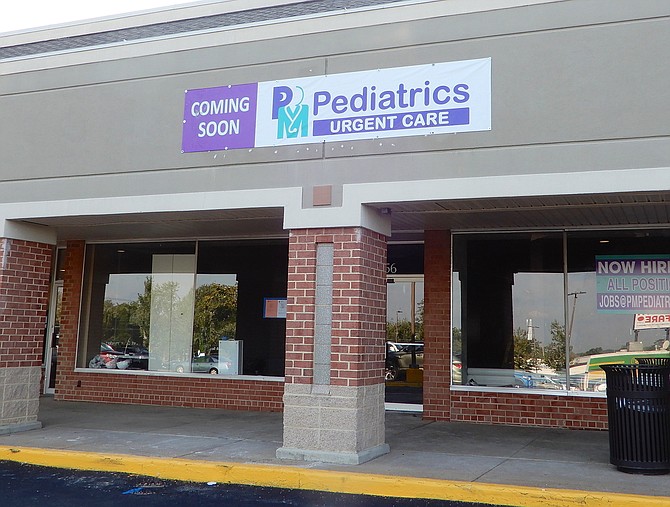 The Calico store is no longer in the Kamp Washington Shopping Center. But its spot won't stay vacant for long. In its place will be going a medical-care facility called PM Pediatrics.
At its June 25 meeting, the Fairfax City Council approved the facility's application to open up shop there. Since that site is zoned Commercial Retail, PM Pediatrics needed the City's OK for a special-use permit to operate a medical-care business in that location.
"It's an urgent-care facility for children, from birth through college," said Supriya Chewle, a planner with the City. "It's expected to generate less vehicle trips than a retail use, and it has adequate parking."
Several retail establishments are already there, including the Earth Fare grocery store, Pet Supplies Plus and The Nail Bar, and restaurants Cava, MOD Pizza, HHM BBQ, Chipotle and PokeHub. Drivers may access and leave the shopping center's parking lot via two curb cuts along Lee Highway and two curb cuts along Fairfax Boulevard.
The medical facility's space is 5,200 square feet. It plans to have 10 examination rooms, two flex examination rooms, an X-ray area, a nurses' station, offices, restrooms and a waiting area. Hours of operation will be Monday-Saturday, noon-midnight, plus Sundays and holidays, 10 a.m.-midnight, to fill the need when doctors' offices are closed.
PM Pediatrics offers a full spectrum of after-hours urgent care, and its staff is able to diagnose and treat all but the most critical cases. Its doctors can handle illnesses and injuries, including wounds requiring stitches, broken bones and sprains, as well as fevers, ear infections and minor traumas.
"It started as an after-hours option to the E.R.," explained Molly Novotny, an urban planner with Cooley LLP, in her presentation to City Council. "It's more for acute illnesses, X-Rays and treatment. There would be no surgeries, overnight visits or anesthesia."
She said PM Pediatrics also has three other locations in Northern Virginia, and all are in shopping centers. And, she added, "All of them have colorful, exciting and inviting interiors for children."
Councilwoman Janice Miller asked how many employees would be there, and Novotny said they'd work in 12-hour shifts, with each shift staffed by five people. There'll be two or three full-time employees – a doctor and/or nurse practitioner and a registered nurse – plus two, part-time employees. And, said Novotny, "We can increase that number, as the need requires."
"If a patient's condition escalates, would you send that patient to a particular hospital?" asked Councilwoman So Lim. Novotny replied that PM Pediatrics has relationships with all the hospitals, so that shouldn't be a problem, "unless a patient requests a particular one."
"In that case, would you call our rescue squad?" asked Mayor David Meyer. Novotny answered yes. So, said Meyer, "There would be a slight increase in the need for their services."
He then called for a vote on the matter of the special-use permit, and Councilman Michael DeMarco made a motion for approval, which was seconded by Miller. The motion then passed unanimously.