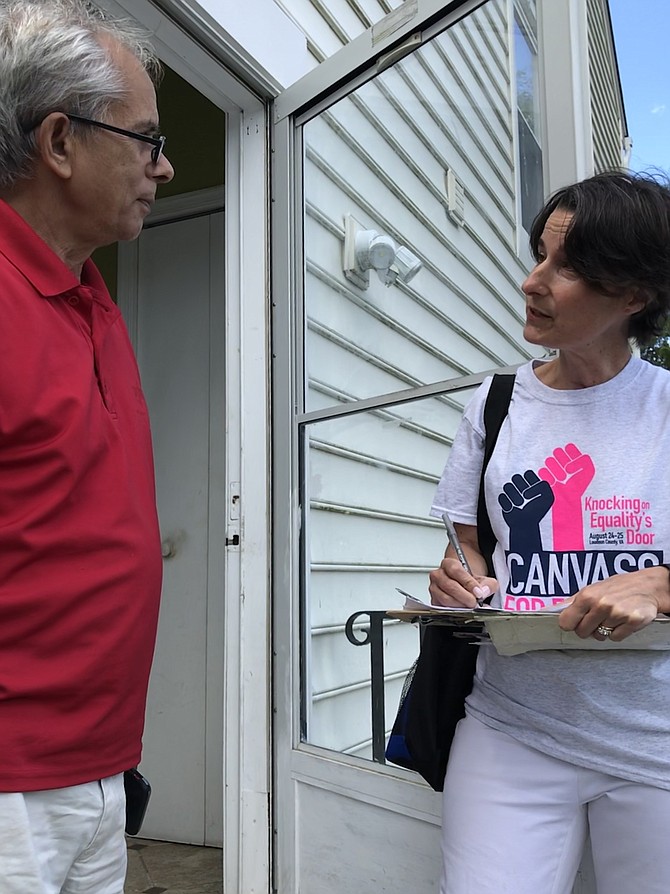 The Equal Rights Amendment (ERA) is not (yet) added to the United States Constitution. In a historic effort to reach 5,000 voters before Women's Equality Day, Aug. 26, which celebrates women's right to vote, and to inform voters the Equal Rights Amendment is only one state away from being ratified, Virginia Sen. Jennifer Boysko (D-33) and a team of 98 canvassers knocked on doors and spoke to constituents in portions of western Fairfax County and Loudoun County, the weekend of Aug. 24-25.
Boysko and the other canvassers urged voters to go to the polls in November and cast a vote for equality by voting blue to support the Equal Rights Amendment, a constitutional amendment that would establish gender equality in the U.S. Constitution.
In the last Virginia legislative session, with a slim margin giving Republicans control, the Equal Rights Amendment died for the year in a House of Delegates subcommittee by a vote of 4-2 on Jan. 22.
This year, all one-hundred-forty of Virginia's legislative seats will be up for election. Boysko believes if the Virginia legislature turns blue this November, the ERA could successfully be reintroduced. This could lead to Virginia becoming the 38th and final state needed to ratify the Equal Rights Amendment.
As Senator Boysko walked toward the home of Krishna Khanal in the Town of Herndon, she explained. "I am out today canvassing to voters to help them understand the importance of this November's elections. There are hundreds and hundreds of other people out canvassing today for the Democrats because we believe that passing the Equal Rights Amendment is of utmost importance." Currently, 37 out of the required 38 states have ratified the ERA. Virginia is one of the holdouts. "I want to make sure there is opportunity for everyone in our wonderful community," said Boysko.
By late Sunday night, Aug. 25, Boysko reported she and the other canvassers knocked on a total of 7,027 doors, reaching approximately 10,000 voters.
"I'm happy to answer any questions readers and constituents may have about what I stand for," Boysko said. She added that individuals could check her website, www.JenniferBoysko.com for more information.
Boysko faces Suzanne D. Fox (R), vice mayor and former member of Leesburg Town Council, on Nov. 5. See https://suzanneforsenate.com/ for more information.
Equal Rights Amendment (ERA)
The ERA states: "Equality of rights under the law shall not be denied or abridged by the United States or by any state on account of sex."
The ERA successfully passed Congress in 1972. For an amendment to be added to the Constitution, a minimum of 38 states has to vote for it. By the 1982 ratification deadline, approvals stopped short of the needed number. In May of 2018, the ERA vote in Illinois brought the tally to 37 states, leaving it one state shy of the magic 38 and potentially being adopted by the U.S. Constitution.
According to Thomas H. Neale, Specialist in American National Government, Congressional Research Service, Congress has the power to extend the deadline if 38 states approve it. After that, there may be more legislative actions needed before the ERA reaches official amendment status.
More like this story