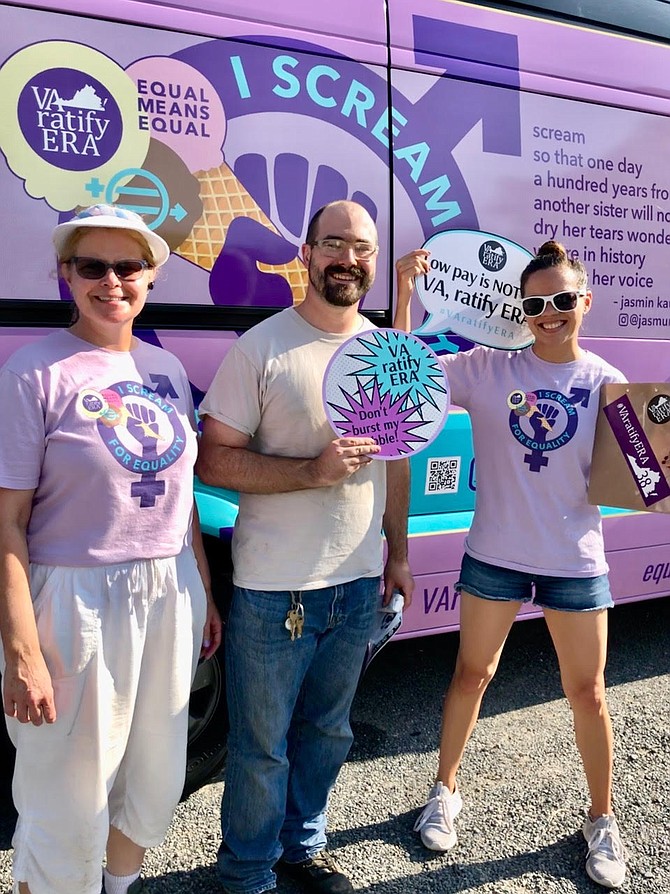 After the Virginia General Assembly Privileges and Elections Committee voted against it in January, Equal Rights Amendment (ERA) proponents are taking a cold message to citizens throughout the Commonwealth — ice cream.
A 38th State vote is necessary to achieve ratification of the ERA to the federal constitution. Advocates want Virginia to have that historic position.
Concentrating on educational outreach, the iScream tour targets students and communities near schools and universities, and some communities where the issue might not come up in normal conversation. Their aim is to assure that voters, and young people in particular, know about the ERA issue and are registered to vote.

Reminiscent of last Fall's ERA bus tour, the campaign, VAratifyERA, is sponsoring the #iScream4Equality ice cream truck tour with multiple stops throughout the Commonwealth. The tour launched on Aug. 26, Women's Equality Day, and continues with multiple stops on dates through Nov. 5. The truck recently stopped in Clifton.
Kati Homung, Campaign Director, said, "You'd be surprised that most people don't realize there's a gender equality issue and that [equality] is not part of the U.S. constitution already."
The campaign has recognized that the key to passage is to elect candidates who will ratify ERA. They are targeting the 20 closest House of Delegate races, talking to voters about candidates who support ERA.
The Virginia Senate has consistently passed ERA legislation for several years, including a 26-14 vote in favor in 2019. But opposition has blocked passage in the House of Delegates. Local State Sen. George Barker was an early sponsor of ERA legislation. His wife, Jane Barker, is an active supporter and a leader in the effort to erect a monument recognizing suffragists in Occoquan Regional Park to be dedicated in November.
VAratifyERA also will host a law convention at the University of Richmond on Oct. 26, bringing together law students, legislators, legal scholars and policy makers. Planned for discussion: the ERA, the impact of its ratification on Virginia, and strategies to overcome objections to constitutional change.
For more information on the ERA campaign, tour schedule, or law convention, see the VAratifyERA Facebook page. For information about the Occoquan memorial, go to www. suffaristmemorial.org.