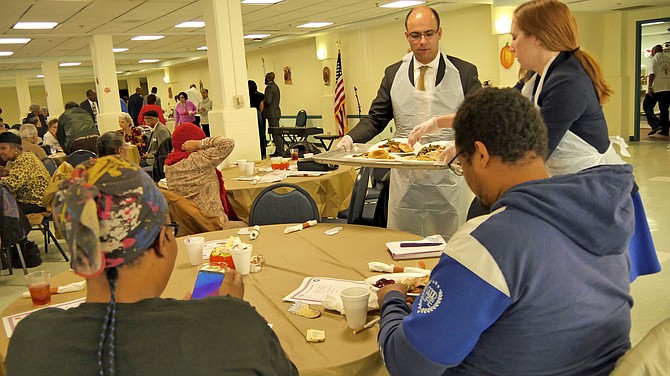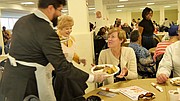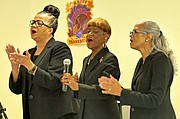 Alexandria Elks Lodge #48 and Israel Temple #138 encourage the Mayor and City Council to serve the people as the Council passes out plates piled high with turkey and stuffing.

The Mayor had adjourned the City Council meeting earlier in the afternoon. Brother Harold Hughes says, "For the first time in 37 years a Mayor was able to attend our Thanksgiving dinner along with five Council members."
More than 200 people celebrate "being blessed another year" at the Lee Center Exhibit Hall, with the smells of cooked turkey and the sweetness of the candied sweet potatoes wafting through the room. Vancine, Blanche and Corey are singing "we have to praise him for each day." Hallelujahs reverberate from the back table.
People head with their walkers to a table near the front of the room while others wave at a friend across the room to save them a seat. Six members of Israel Temple fill the plates down the line with turkey and trimmings and load large trays for delivery to the tables by Council members.
Daughter Doris McMurray officiates as the Mistress of Ceremonies guiding the program through Introductions, speakers and memories. Deacon Albert "Al" Anderson from St. Joseph's Catholic Church serves as the main speaker, vowing "to keep it short. I'm hungry, too." He traces the history of Thanksgiving from the Ga tribe in West Africa to the American Thanksgiving. Anderson remarks that some people today don't have a meal to eat. "Go home and find somebody to feed." He says, "We have been able to endure because we have faith. Be joyous. Don't let this situation in the world get you down."
The Thanksgiving dinner was organized by the Senior Citizens Committee and sponsored in part by Historic Christ Church on Washington Street and catered by King Catering.