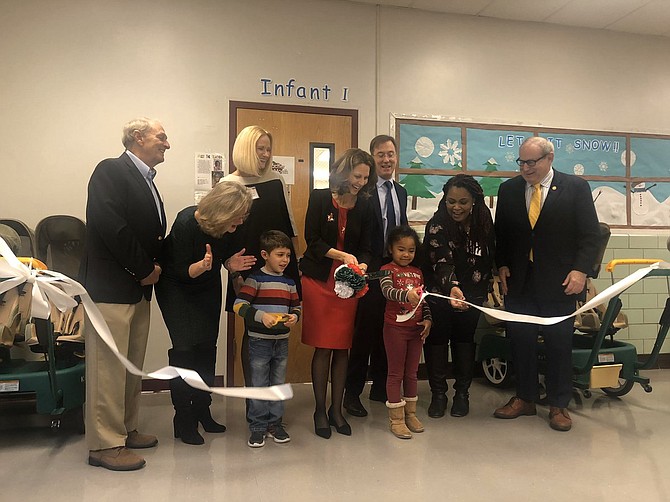 To celebrate the opening of United Community's newly remodeled Early Learning Center Infant Suite, First Lady of Virginia Pamela Northam and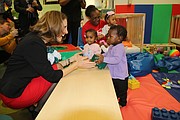 other leaders visited the center on Dec. 10 to cut the ribbon.
The Early Learning Center Infant Suite is in Bryant High School where 12 of the beds are reserved for mothers who are also students at that school. "This is extremely helpful for the young mothers," said Alison DeCourcey, the executive director at United Community.
This newly remodeled center is in line with Gov. Ralph Northam's (D-VA) recent proposal to dedicate $94.8 million in new funding for early childhood education.
"Too often, our most vulnerable children lack access to the high-quality, affordable education they need," said Pamela Northam. "These bold changes will grow and train our educator workforce, support families across the Commonwealth, and ensure our youngest Virginians have a strong start in life."
At the event in Mount Vernon were Del. Mark Sickles (D-43rd) and Paul Krizek (D-44th), as well as United Community's executive director Alison Decourcey. The group toured the Early Learning Center's (ELC) newly remodeled infant suite, which has space to accommodate up to sixteen infants ranging from six weeks to seven months old. The expansion -- which was made possible by contributions from the John Ben Snow Foundation and other donors -- increased the suite's capacity by 75 percent.
According to information released by the Governor's office, Virginia currently ranks in the bottom third of states when it comes to investment in early childhood education. The Governor's budget allocates $59.5 million for the Virginia Preschool Initiative to increase early childhood education access for at-risk four-year-olds. This funding will go towards increasing the amount of per-pupil dollars, boosting incentives for private providers, ensuring class size flexibility, and helping to eliminate waiting lists. The budget also includes $26 million to pilot the expansion of the Virginia Preschool Initiative and state Mixed Delivery Grants to at-risk three-year-olds in both school and private child care settings.
In Mount Vernon, a large number of children do not go to preschool. A recent study by the Northern Virginia Healthcare Foundation revealed that less than 0.1% of children in part of United Community's service area, known as Region 1, are enrolled in preschool, making it one of Northern Virginia's most infamous "child care deserts." https://novahealthfdn.org/wp-content/uploads/NVHF-Issue-Brief-FINAL.pdf
"The demand is three times the supply," said DeCourcey. Fifteen percent of all families in Region 1 live below the poverty line. The area provides a stark contrast to the rest of Fairfax County, where the average family spends over $20,000 on childcare expenses each year.
"Nearly half of Virginia's children enter kindergarten without the basic skills they need to succeed in school and beyond," said Pamela Northam. "The Governor and I are dedicated to expanding access to quality early childhood care and education and I'm grateful to centers like United Community's Early Learning Center for their commitment to serving more families."
Governor Northam will address the Joint Money Committees on December 17 to share the full details of his budget plan.