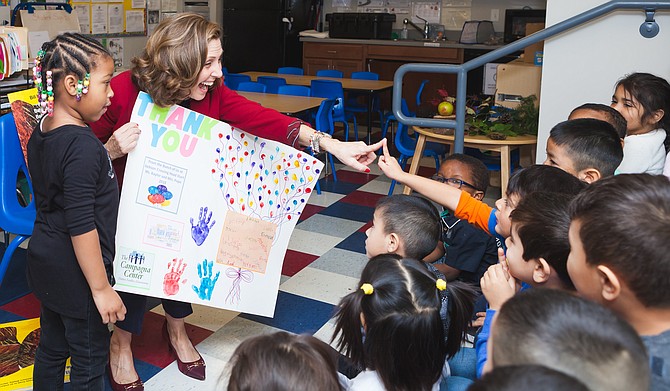 While in town for the Scottish Christmas Walk Parade, Pamela Northam, Virginia's First Lady, visited local preschool children and reinforced her priority of childcare and education before age 5.
The Campagna Center administers the program for three- and four-year olds that Northam visited. The classroom resides in the Jackson Crossing affordable housing development. Northam was greeted with flowers and read with the children.
During her weekend visit, Northam also "had a roundtable discussion with local early childhood stakeholders," said David Cary, her chief of staff.
Gov. Ralph Northam, who took office in January, established a Children's Cabinet, an interagency collaborative and advisory body, which his wife Pamela chairs.
Asked what are some of the most decisive priorities for early childhood care and education, she said greater "recognition and respect" for professionals in that field. A childcare worker or preschool teacher is "not just a glorified babysitter." Early brain development sets a foundation for education for the rest of a person's life, and so society can realize the "largest return on investment" by focusing on pre-kindergarten, she said.
She said the administration is considering ways to increase teacher compensation and avenues for professional development; incentives to businesses to provide childcare; and ways to promote childcare as a business, in order to attract more people into the profession.
The governor's budget proposal, which will be released the week after next, will include more details, she said.
Another priority is to build up the capacity of the array of existing local providers, said Jenna Conway, the state's recently appointed Chief School Readiness Officer, who accompanied Northam's visit. This includes both out-of-home "center-based" providers which skew eastward in Alexandria, and in-a-private-home "family-based" providers, which skew westward.
It'd be difficult to serve the highest-risk children without "meeting them where they are," in terms of provider type, she said. This stands in contrast to another school of thought, which holds that center-based settings deliver more quality than family-based settings. Dr. Tammy Mann, Campagna's executive director, says she appreciates the administration's broader approach.
A third priority is to systematize program quality evaluation. Virginia Quality, the state's scoring system in which participation is voluntary, captures only 17 percent of programs receiving public resources, according to Conway. So "we don't know" how the majority fare, she said.