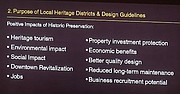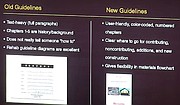 The Town of Herndon held a Special Joint Work Session of the Town Council and Heritage Preservation Review Board on Dec. 2, 2019, to review a draft of the Overlay District Guidelines and Resource Guide with town staff and the Project Consultants. The public was invited, but their comments were not taken at the meeting. Instead, the public was invited to provide comments via email at community.development@herndon-va.gov or through an online link. Meeting info, including the draft guidelines and standards, would be posted on the Meeting Webcast page when available according to the town website. Dec. 9 showed the archived video of the meeting available.
Mayor Lisa Merkel opened the meeting. "This is our first opportunity to review the draft presentation of the Overlay District Guidelines and Resource Guide that's been developed and presented by the project consultants and the Town staff. It was important for everyone to get the first glance at the same time. Tonight will be the beginning of what I think will be a very lengthy process in reviewing these guidelines. So I don't want anyone to have the notion that a decision is going to be made quickly or any time in the next few weeks. It's going to be a long process, and we are going to have multiple opportunities to hear from the public," said Merkel.
According to the town website: "The Town is pursuing a reboot of its Heritage Preservation Program. This effort will include district awareness and public outreach campaigns, new historic resource surveys, and a new Heritage Preservation Handbook with new Design Guidelines. The current focus of this project is the development of NEW DESIGN GUIDELINES."
Mel Price, AIA, LEED AP Principal Work Proma Architects and Paige Pollard, Principal Commonwealth Preservation Group, were the Project Consultants. Bryce Perry, Planner & Deputy Zoning Administrator Town of Herndon, reviewed other updates that were being implemented as part of the program reboot, he said, "to improve and enhance the preservation program in the town."

These included meeting schedule changes, new architectural surveys, creation of uniform sign standards, more administrative approval of minor changes, creation of procedure guides, district awareness campaigns, and expanding training opportunities, according to Perry.
CONSULTANT Mel Price discussed national trends, two forces, those "protecting something they love" and others "standing in the way of progress."
"There are really two different perspectives," she said. Next, Price said that the old guidelines were "text-heavy, full paragraphs" and did not tell some "how to." In comparison, the new guidelines she said were "as user-friendly as possible." "It's color-coded, very clear about where to go for contributing, non-contributing, additions and new construction," Price said. "We've heard from almost everyone that we need flexibility in materials, so we added a flow chart to address that," she said.
Price said that on the "report out," they interviewed 143 total participants, with nearly 80 percent being homeowners and residents. "I think that's really important," she said. What they found according to Price was that through the public workshops and two days of interviews, there were four key areas of concern. Clarification she said was needed in process and guidelines, construction and material cost, material guidelines with flexibility in new materials and training and education. According to Price, there was a consensus on many interview findings. Highlights of those presented included maintaining the small-town feel, maintaining and increasing property values and allowing for growth and change. Price discussed the purpose of the local Heritage Districts & Design Guidelines and its positive impact on historic preservation.
Paige Pollard said, "We've seen a lot of trends emerge in the last three or four years, and Herndon is very similar to what we're seeing in a lot of other communities. We've seen a backlash against the old school style of preservation."
Next, Price showed the Preview Layout and Draft of the updated Guidelines beginning with residential. She said, "It's really important that it is clear there are three paths for a homeowner, the Maintain and Repair Path, where we will link in the recourse guide. You don't have to fill out an application... The Administrative Approval Path has four steps to work through with town staff, and then there will be the HPRB Review Path."
Price said she heard from many residents that they were confused about where HPRB had purview.
Pollard introduced the Material Flow Chart. "We have found when we write design guidelines and include a list of alternate materials that are acceptable, the next day, the guidelines are out of date... We've taken a different approach that allows the guidelines to react to the changing market for alternative materials, and it creates a valve for you (staff, board and council) to determine what your philosophy wants to be on alternative materials."
Asked if economics can be a factor in the guidelines, Pollard said, "Economics cannot be a factor in the guidelines... Guidelines are intended to analyze the appropriateness of building treatment. As we have constructed, this is to allow you to answer those questions consistently. Any discussion of economics would have to occur …in the policies and procedures side of things.
A RESOURCE GUIDE was planned as part of the draft. Pollard said, "We maintain in our office a library that's primarily digital, of all the best sources of material we refer to when we are helping someone with building treatment, tax credit application or an application to an architectural review board or HPRB." She said they zeroed in on the information that would most relate to buildings in the Town of Herndon and put those into the Resource Guide.
The next step, Price said, would be for the Community Development staff to provide comments to the consultants by mid-December and the consultant team would then provide DRAFT Guidelines 5 weeks later that would be available to the public mid-February The next Public Meeting would be planned for early March.
Public Comments
As of Dec. 9, a town spokesperson provided comments received through the Town's Clerk office by six individuals, dated Nov.12- Dec. 3 about the Heritage District. Excerpts follow.
"I hope you all have had a good evening so far. I've spent mine applying plastic to the inside of my 120-year-old windows...because the Town will not allow me to have airtight, functional windows to keep the cold out." (Nov. 12)
"So let me get this straight, the Town: will NOT notify the owners of Heritage structures, will NOT examine failing Heritage structures, will NOT post on Facebook and will NOT accept comments? What exactly is the goal of this exercise?" (Nov. 18)
"We urge the town council to always act with integrity and openness. In this regard, we encourage notification of all 200 owners of home potentially affected by the Heritage Home guidelines to be notified of a meeting that may be making any changes that would affect them." (Nov. 20)
"The preservation board is like a homeowners association. Shouldn't the residents be able to elect the board versus appointments? What is the Town doing about the upkeep on abandoned commercial properties?" (Nov.23)
"Demands by the board to replace with existing materials is unrealistic and extremely expensive. I am not a wealthy person, and to replace my metal roof with a new metal roof would take all the money in my savings." (Dec. 2)
"I totally agree that economics cannot be a factor. The HPRB and Town Council should only rely on the HPRB guideline standards." (Dec. 2)