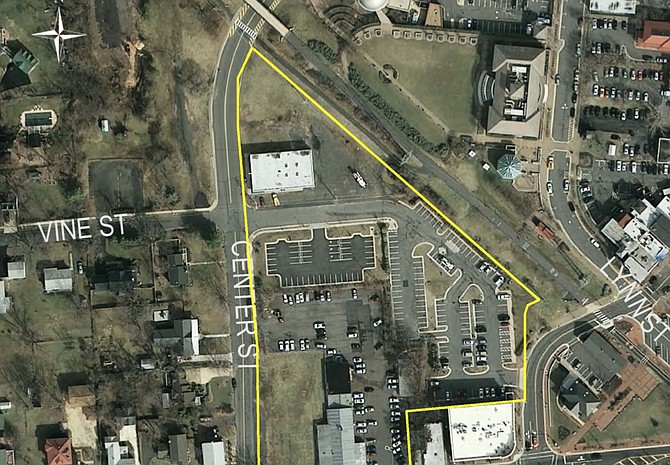 At the Herndon Heritage Preservation Review Board public hearing held in the Herndon Council Chambers Building on June 18, 2018, board members approved in a vote of 6 to 1, three Certificates of Appropriateness. The action is related to the Herndon Downtown Redevelopment Project, a partnership between the Town of Herndon and Comstock Herndon Venture LLC. The project includes 281 residential apartments, approximately 17,600 square feet of retail space, an 18,000-square-foot Arts Center and a 761-space parking garage.
During the Public Hearing, Preservation Review Board members, town staff and representatives from Comstock, as well as residents, commented for hours for and against certificate approval. Town staff recommended demolition approval of ArtSpace Herndon and the Subaru or Horn Building and recommended approval of construction of new structures and site features in connection with redevelopment in Downtown Herndon.
As comments from the citizens began, confusion erupted when Barbara Glakas attempted to give her prepared testimony. Chairman Walker announced the public would be allowed to speak for a total of one minute on each certificate or three minutes on all three certificates, rather than the standard three minutes for each certificate. Glakas replied, "You are basically depriving the public of testifying on separate certificates." Glakas reminded Walker that certificates were on the agenda as three separate items, advertised separately and had been discussed by the review board separately earlier in the meeting. Therefore, she reasoned the public should be able to comment on each certificate for the standard time of three minutes. It was only after the Town Attorney spoke to Walker and the board members, and another board member agreed with Glakas, that Walker stated Glakas and other citizens would be given nine minutes to testify on the three certificates.
IN HER TESTIMONY, Glakas said the ArtSpace building was not a contributing structure and held no historical significance. She agreed with the staff recommendation for its demolition. In regards to the Subaru or Horn building as it was called, Glakas reported it was built in 1929, used as a car dealership and for milk trucks collecting milk for local farmer. Glakas noted the architecture of the building had a "stepped down roofline" that had been seen in other buildings that were now gone from the town, and the building was constructed with rusticated blocks. She pointed out that there are only a few examples of the block left in Herndon. Glakas stated she was not sure the Comstock staff fully appreciated the emotional relationship some community members had to this admittedly "unattractive building."

Reviewing Comstock's Certificate of Appropriateness for New Construction, Glakas stated the stepped down roof design currently offered in a Comstock building elsewhere in the project, although meant to replicate the period of significance, was not bold enough to reflect that of the Subaru building. Glakas inquired if one of Comstock's new buildings on Elden Street could be altered to incorporate the stepped down roofline or possibly the rusticated block.
Connie Hutchinson, former Councilmember opposed demolition of the Subaru building because of its historical status. The Heritage Preservation goals for Herndon, Hutchison said, were to avoid demolishing buildings that contributed to the historic character of the district whenever possible. The National Register of Historic Places, Hutchinson said, uses "significance of integrity" as a category for preservation, noting a building has integrity when it has retained the features that identify it as a historic property. She noted its age as built between 1920-1930 during a period of significance in the Herndon Historic District. Distinct architectural features of the period include the stepped down parapet, large picture windows, interior tin ceiling panels and a standing seam tin roof. Hutchinson pointed out the building could be renovated and repurposed, possibly as a year-round farmers market, dinner theatre, arts facility, or museum for antique cars and trucks.

Hutchison said that since the Subaru building was a historic structure, it must be listed for sale at a fair market price for one-year period before demolition, and such had not been done.
"As a member of many [Herndon] town councils, I can say with certainty that all through this downtown redevelopment process, one reassuring fact persisted, that any and all redevelopment would have to be approved by the Heritage Preservation Review Board to make sure that it fit with the downtown's existing character and charm ...The purpose of the HPRB is to protect and preserve what makes our historic downtown unique. And, as members of the HPRB, you have been entrusted with that responsibility. Our history is literally in your hands."
Hutchison told the HPRB that they have the power to insist on roof lines that reflect the neighboring historic homes, architectural details that bring character to the buildings and features that break up the mass, like varying building heights and facade setbacks.
Steve Mundt and Stephen McWilliams echoed many points made by Glakas and Hutchinson. Mundt said that HPRB needed to be held to the standard that would make the downtown look like an old area and for HPRB to look at the Subaru building as a contributing structure. He reiterated the need for uniform treatment and review by HPRB regardless if an applicant is a citizen or a corporation.
McWilliams provided additional information showing the National Historic Registry identified the Subaru building a contributing structure. Regarding a staff memo about the project, McWilliams pointed out some concerns regarding a statement that the redevelopment project was not viable without tearing down the two buildings. McWilliams said project viability was non-secular in terms of an HPRB vote. McWilliams addressed a memo stating that the building was in the "C3" category, the lowest preservation category. McWilliams told this category was created by Town of Herndon Planning and sent to Council in 2013 without input or approval of HPRB. He named three buildings with similar descriptions in Herndon as the Subaru building, "commercial and vernacular," a local church and two high-end restaurants in Herndon still in use. McWilliams concluded by stating the town's Master Plan and Pattern Book both show this building being preserved.
CITIZENS who commented against the demolition of the Subaru building and against the approval of the Certificate for Appropriateness for new construction by Comstock took up the majority of the citizen comment time during the HPRB public hearing.
John Boylan who has a business on Elden Street spoke for the demolition of the buildings and the construction of the new structures and site features in connection with the downtown redevelopment. "I love the different opinions, and that's why it makes this such a great place to live. It was teamwork that brought this effort together. I've been very impressed with what I've seen here today. I think it will work very well."
Charles Williams shared that when he first heard about the project, he was excited. "This is the kind of community I want for my family and the Town of Herndon. … It's a community where you can live, play and have fun."
Jeff Smith reiterated previous comments for the redevelopment. "It looks amazing...If we were to redevelop [where the Subaru building is located], it would make it a place people want to come, not just from the Town of Herndon but from neighboring cities. … We can have that economic engine within our town...Why not here?"
A video of the June 18, 2018 HPRB meeting can be viewed at www.herndon-va.gov/online-services/agendas-minutes-webcasts.