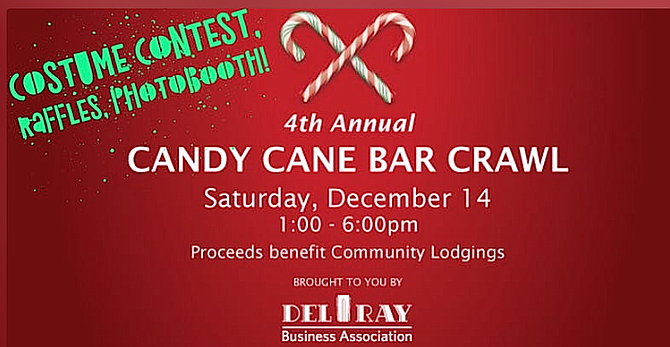 Amid the hustle and bustle of Christmas tree lightings, boat parades, holiday parties and card-mailing, there's one Del Ray tradition that has planted its feet firmly on the holiday schedule from year to year: The Candy Cane Bar Crawl, scheduled this year for Saturday from 1 to 6.
Now in its fourth year, the crawl has grown exponentially from its humble beginnings, says Crawl committee member Lola Capps. What started with a handful of about 50 participants has grown to an expected 500 this year, she said, founded largely on community support and neighborhood foundations – and strengthened by an all-volunteer cast.
"We've gone through and done it a couple of times, it always has a pretty good turnout; it's grown every year," Capps said.
And with 15 restaurants on board, participants will have no shortage of food and drink options as the afternoon ticks by. Everyone will start their day at either Lena's Wood-fired Pizza or RT's – the designated check-in points – and will then mosey their way through Del Ray, stopping off at the likes of Hops n Shine, St. Elmo's and more.
Along the way, their participant lanyards will earn bar-crawlers food and drink specials at each stop, Capps said. But the best part is the social aspect.
"Walking around with your friends – or new friends – having different drink specials, festive drinks … Typically all the restaurants will have something specific to the bar crawl," she said.
And participants can rest easy that their admission fee helps support a good cause: Community Lodgings, which provides transitional housing and housing assistance to neighbors experiencing homelessness. A portion of the proceeds from the Candy Cane Bar Crawl will help fund Community Lodgings' programs and mission – helping make the afternoon fit into the holiday spirit in yet another way.
Participating restaurants include: Rt's Restaurant, Hops N'Shine, Northside10, Cheesetique Del Ray, Catch on The Ave, Stomping Ground, Pork Barrel BBQ, Del Ray Pizzeria, St. Elmo's Coffee Pub, Evening Star Cafe, KAiZEN Tavern, Live Oak Restaurant, Charlie's On The Avenue, The Garden, and Lena's Wood-Fired Pizza & Tap.
With one foot in a fun social outing and another in supporting nonprofit causes, the whole afternoon comes down to community, Capps says. And that's what makes the bar crawl so special.
"It's truly community," Capps said, adding that the businesses and residents have come together to build the community, "making it that Del Ray is a great place."
IF YOU GO
Del Ray Candy Cane Bar Crawl
When: Saturday, 1-6 p.m.
Check in or register: Lena's Wood-Fired Pizza and Tap, 401 E. Braddock Road, or RT's, 3804 Mount Vernon Ave.
Tickets: $15 in advance; $20 at the door.
Dress for success: "We do have a costume contest," committee member Lola Capps says. "People need to wear fun, funky, festive attire."
Hope Nelson owns and operates the Kitchen Recessionista blog, located at www.kitchenrecessionista.com. Email her any time at hope@kitchenrecessionista.com.