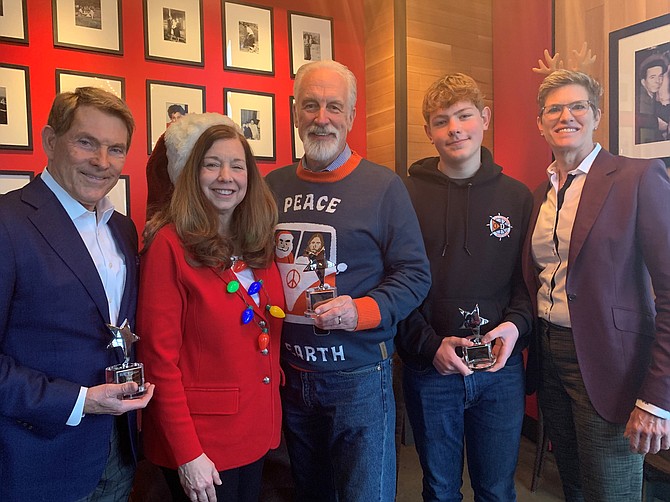 The Del Ray Business Association celebrated the holidays with the organization's annual Star Awards luncheon Dec. 16 at Lena's Wood-Fired Pizza and Tap restaurant.
DRBA president Sue Kovalsky led the presentation of awards to individuals who have contributed to the success of the Del Ray community's many events throughout the year, including the Taste of Del Ray, Halloween Parade, Turkey Trot, Tree Lighting and recent Candy Cane Crawl.
Bill Reagan, Executive Director of the Alexandria Small Business Development Center, was honored with the City Star Award for his work as a liaison between the city and Del Ray businesses.
"Mango" Mike Anderson of the Homegrown Restaurant Group received the Business Star Award. Anderson owns three Del Ray restaurants on Mount Vernon Avenue – Pork Barrel BBQ, the Sushi Bar and Holy Cow Burgers, and has been a leader in the Del Ray business community for many years.
William Jahns received the Youth Star Award for his many hours of volunteer support at Del Ray events and Amy Shopkorn received the Citizen Star Award.
According to Kovalsky, "the Star Awards are presented to individuals that have gone above and beyond in supporting, promoting and volunteering for the Del Ray Business Association and thus helping to make Del Ray such a great place to live, work and shop."
www.visitdelray.com