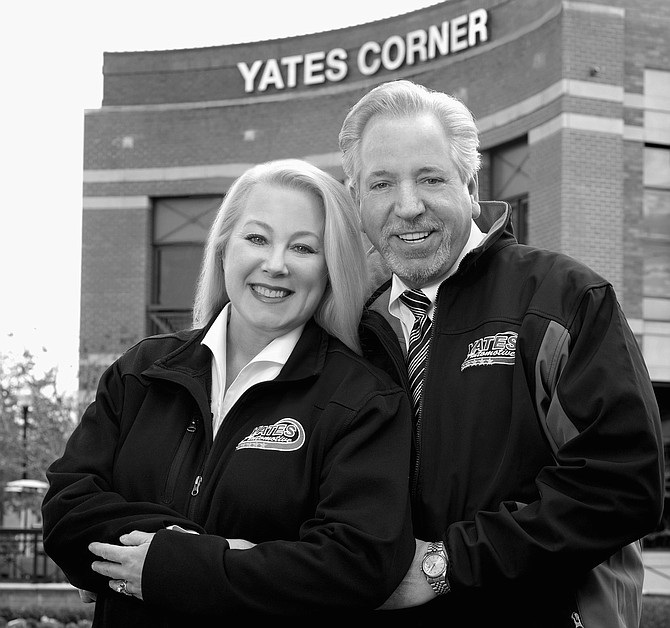 The busy intersection of Braddock Road and Mount Vernon Avenue is a vibrant hub of community activity, with a lively restaurant and retail businesses that serve as an anchor for the Del Ray and Rosemont neighborhoods.
It wasn't always this way. For more than 30 years, the intersection was an eyesore, a 50-year-old strip mall and abandoned service station and typewriter repair shop with boarded up buildings and potentially hazardous soil contaminants. But Loren and Jason Yates envisioned something more for the desolate property sitting across from the family-owned Yates Automotive Service Center.
"It was very run down and dangerous and nobody wanted to go into the 7-Eleven," said Jason Yates. "But Loren and I had a dream and believed it could be transformed into something that could benefit the entire community."
The dream didn't become a reality overnight. In 2005, the Yates' began the years-long process of negotiating with three different property owners, handling the remediation of the soil contamination and navigating the city's building and permitting processes. Finally, in October of 2012, ground was broken and a year later the 7-Eleven became the first business to open at Yates Corner.
"The neighbors in Del Ray and Rosemont were fantastic and we had complete community support for the project," Jason said.
That relationship began decades earlier, when Jason's father John, a retired Navy veteran, purchased his first service station in Alexandria in 1964. Jason, the youngest of five brothers born to John and Lena Yates, grew up working alongside his father.
"I always liked mini-bikes, go-karts, cars -- anything with an engine," Jason recalled. "With my dad having a repair shop it was a wonderful childhood."
John Yates purchased the Braddock Road Mobil station in 1977 and Jason spent all his free time working there. In 1986, Jason purchased the Braddock Road station from his parents and that same year, he married Loren.
Together, the couple set out to improve the appearance of Yates Automotive. Two additional repair bays were added in 1982. A brick façade was added to the station's exterior, along with a copper roof in 1994.
"My dad always taught me that a service station is just as important in the community as a doctor or lawyer," Jason said. "It was important to me to change the perception of the service station industry in the neighborhood."
The couple's vision expanded to include the abandoned properties on the 1-acre lot across from their own business. The result of their hard work and perseverance is Yates Corner, which includes Lena's Woodfired Pizza & Tap restaurant, Yates Dry Cleaning and a new Yates 7-Eleven.
The building was constructed using LEED technologies, including geothermal heating, a rain catchment system and other eco-friendly features. The businesses are thriving, with Lena's being named by the Washington Post as one of the top 12 restaurant patios in the Washington metro area. And the 7-Eleven? Today it is recognized by the 7-Eleven Corporation as one of the top 10 performing 7-Elevens in the DC metro area averaging 1,500 customers a day.
"The primary focus for Jason and Loren has always been providing neighbors with products and services to make their personal and professional lives easier and more convenient," said Lee Emery, who nominated the couple as Living Legends of Alexandria. "A byproduct of their vision is that they now employ nearly 150 team members providing jobs with benefits and directly helping their families. It should be noted that they were providing health insurance benefits years before it was mandated by the government."
Over the past 30 years, the couple has provided hundreds of thousands of dollars in support to various nonprofit organizations in the community. In 2017, they began the "Give Your 2 Cents" program, which donates 2 cents of every gallon purchased at Yates Automotive to a different local charity each month.
"The most important thing we wanted to do was add value to the community," said Jason. "With responsible growth and great service, creating jobs and a positive environment that's good for our employees and good for the neighborhood."
The Yates family business, which began expanding into the Kingstown area in the 1990s, is now on its third generation of Yates service providers. Jason Yates Jr., a University of Virginia graduate with a degree in mechanical engineering, has been learning the business from the ground up and was hands on in the design and building of Yates Corner.
"Without the vision and commitment of Jason and Loren, the Yates Corner lot would most likely still be the eyesore it was for 30 plus years," Emery said. "With Jason Jr., the presence of the Yates family will bless Alexandria for years to come."
Among the many accolades the Yates family has garnered is the 2017 Washington Business Journal's Family Owned Business Award.
"To look back on it now, we have done so much," said Loren Yates. "But we have enjoyed it every step of the way because we have done it together as a family. Jason and I have been together ever since our first date almost 39 years ago and he was the same ambitious, charismatic man back then that he is today. He loves what he does, and it shows in everything he has done. "
John Yates passed away in 1989 and his wife, Lena, passed away the following year. But Jason and Loren's commitment to their customers lives on.
"We have customers that have been coming to us for 40 years and have built community relationships on trust," Jason said. "My dad taught me to take care of our customers no matter what. We aren't a gas station, we are a service station. Service is what we do."
Living Legends: The Initiative
The mission of Living Legends of Alexandria, a 501(c)(3) nonprofit, is to identify, honor and chronicle the lives of individuals who have made significant contributions to improve the quality of life in Alexandria. For information, to volunteer, become a sponsor or nominate a future Legend, visit www.AlexandriaLegends.org or contact AlexandriaLegends@outlook.com.