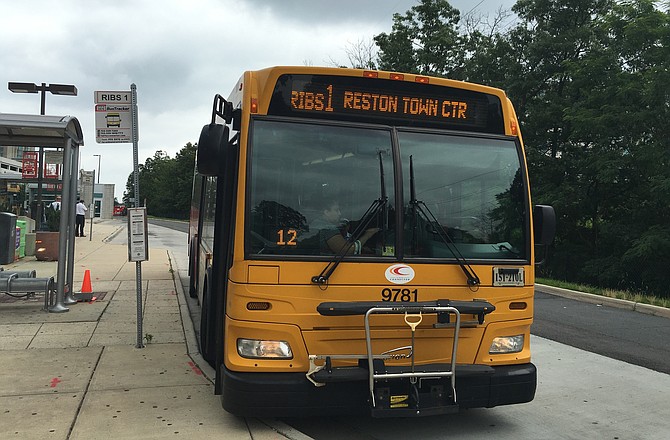 Fairfax County Department of Transportation (FCDOT) wants to hear from the public how they can improve the local bus service provided by Fairfax Connector in the Herndon-Reston area, including connections to the future Metrorail Silver Line Phase 2 stations in Herndon and Reston. Public input is accepted until 5 p.m. on Friday, Feb. 15, 2019.
There are multiple opportunities to participate:
Attend either of two community meetings, the first at Reston Community Center - Lake Anne, 1609-A Washington Plaza, Reston, Saturday, Jan. 26, 2019, 10 a.m.-noon. The second is at Herndon Middle School Cafeteria, 901 Locust Street, Tuesday, Jan. 29, 6 to 8 p.m.


Complete the online Bus Service Review Survey at fairfaxconnector.com

Join an Ask Fairfax! online chat, Tuesday, Feb. 5, 2019, noon-1 p.m.

Attend a Facebook live event at @fairfaxconnector Tuesday, Jan. 22 at 3 p.m., or Friday, Feb. 8, 2019, at noon

Mail comments to 4050 Legato Road, Suite 400, Fairfax

Email comments to fairfaxconnector@fairfaxcounty.gov
"During the first phase of this service review process, our goal is to find out what the community wants from its transit system in the Herndon-Reston area," said Fairfax Connector Planning Chief Michael Felschow. "Our plan is to then take the community input and develop alternatives for the community to react to," he continued. "Ultimately, we hope to have a collaborative process and be able to develop recommendations for future service improvements that work for the community."
Fairfax Connector staff will hand out information about how to get engaged and provide input, along with "free ride coupons" for use on all Fairfax Connector buses in the Herndon-Reston area at the Wiehle Reston-East Metrorail Station on Tuesday, Jan. 22, 3–7 p.m. and the Reston Transit Station on Wednesday, Jan. 23, 2019, 4–8 p.m.