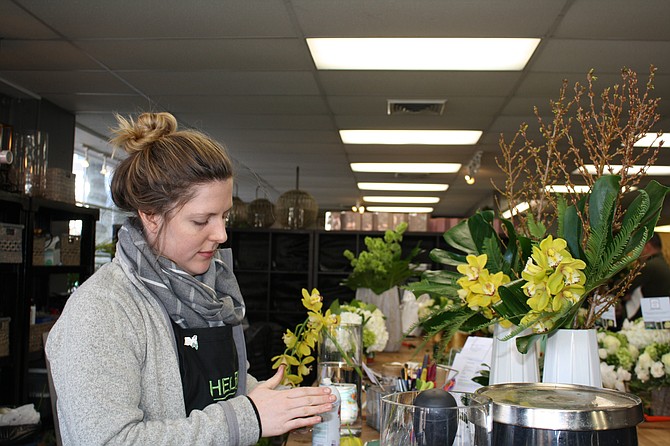 In early February, much is happening at the Helen Olivia flower shop in Old Town. Valentine's Day is coming and they get five to six thousand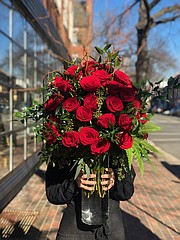 roses to make that special arrangement. There's the last-minute shuffle, the "Galentine's Day" needs and "bud vases" so special daughters don't feel left out when dad brings home mom a Valentine's. The flowers have to arrive at the precise time so they're at the perfect peak on Feb. 14.
"It's a funny little dance we do," said owner Rachel Gang.
Flowers are coming in from all over the world, the delivery vehicles are making rounds in their set areas around Northern Virginia, D.C. and Maryland. "Men are very last minute," Gang said, so it's busy. Helen Olivia has been at the Pitt Street location for over 10 years, so the dance has been done before.
"We're pros at bringing in things at the right time," she said.
Inside the shop, the staff of floral designers are snipping away, and the piles of stems and leaves on the floor piles up. Certain stems oozing plant juice get slippery, said Sarah McNish, a floral designer who was hired on Valentine's Day a few years ago. Floral artists at work can't worry about the mess though. "It is the beauty and freedom of our job," she said.
In the last couple of years, they've seen a trend when husbands buy for their wives and they've picked up on it, throwing in a small "bud vase," for the daughter. The "Galentine's Day" phenomenon started a couple of years ago too, when women come in two or three days before and buy a small bouquet for their BFF's. "An inclusion tradition," Gang said. "Every year we come up with a few new Valentine's arrangements," she added.
It's not just the act of gift giving that makes a bouquet special on Valentine's. There's scientific proof that flowers tug at the emotions and this was highlighted by the Society of American Florists which has its headquarters at 1001 North Fairfax St., around the corner from Helen Olivia. Recent behavioral research studies conducted at Harvard, Rutgers and Texas A&M "demonstrate flowers' ability to make people happy, strengthen feelings of compassion, foster creativity and even provide a boost of energy," their information stated.
The 2018 study, entitled, "The Impact of Flowers on Perceived Stress Among Women," concludes that adding flowers to indoor environments results in a statistically significant and meaningful reduction in stress.
This is one reason they always have flowers and plants in the office "because we believe in flower power," said Jennifer Sparks, vice president of marketing. "We have plants throughout the office space, a lobby arrangement to greet our staff and guests every day, and each staff member receives a weekly bud vase for their desk," she added.
This increases their office productivity, said researchers at Texas A&M. "Our research shows that a change as simple as adding flowers and plants can be important in the most meaningful way to businesses in the modern economy," said Dr. Roger Ulrich, lead researcher on the project. "People's productivity, in the form of innovation and creative problem solving, improved — which in certain circumstances could mean the difference between mild and great business success."
The rose, they say, has evolved from a few varieties in the 1980s to over 120 varieties today, but most are not grown around here. "Approximately 90 percent of the roses sold in the United States for Valentine's Day are imported from offshore growers in Colombia and Ecuador," said Jenny Scala, the society's director of marketing and communications.