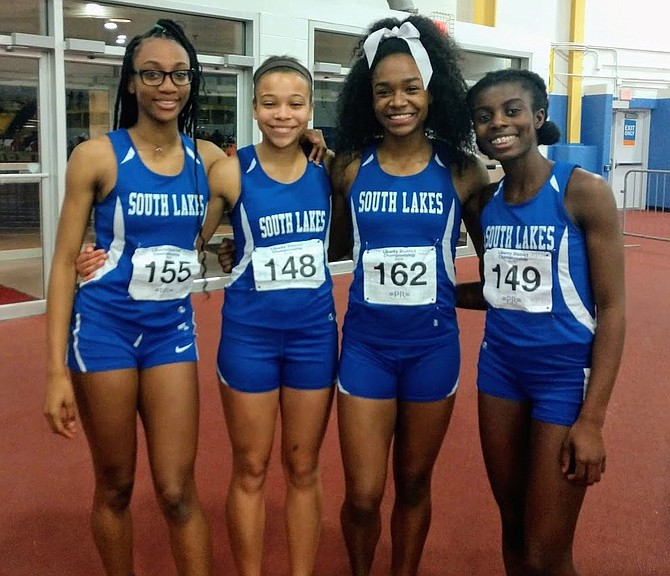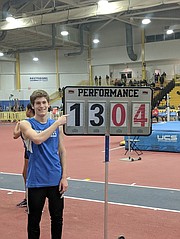 Senior Asher Levy-Myers vaulted into South Lakes High School history during Day 1 of the Liberty District Indoor Track and Field Championship Wednesday, Jan. 23 at the Prince George's Sportsplex.
Levy-Myers, who finished fourth in the pole vault last season (11-04.00), won the event and broke the school record by clearing 13-04.00. The previous mark of 13-00.00 was set by Mark Manning during the 1985-1986 season. Teammates Jonathan Luu, also a senior, (5th) and junior Caleb Miller (6th) both cleared 10-06.00.
Senior Calvin Warstler led from start to finish in winning the 3,200 meters in 9:55.36.
Junior Hannah Waller led a sweep of the 55 meter dash, winning her second consecutive title in 7.08. Junior Rhema Konadu finished second (7.48), freshman Jillian Howard was third (7.49) and sophomore Juviannadean Mullings finished fourth (7.57). Waller also won the long jump with a Liberty District record leap of 18-05.00.
Mary Gregory, also a junior, successfully defended her title in the 500 meters with a winning time of 1:18.32. Junior Emily Lannen was second (1:20.05).
Other notable Day 1 performances from SLHS include:
Senior Stevie Jones, second in both the long jump (21-01.50) and 55 meters, where he ran a 6A state meet qualifying time of 6.60.

The girls 4x800 meter relay team of senior Sophie Halkett and juniors Beth Matthews, Caitlyn Morris and Sydney Anderson finished second (10:02.48).

Junior David Ramirez second in the 500 meters (1:11.73).

Senior Nicole Post third in the long jump (16-00.00) and fourth in the 55 meter hurdles (9.02).

Sophomore Molly Shapiro third in the pole vault (7-03.00, 3rd).

Fourth-place finishes were achieved by sophomore Amelia DiBiase in the pole vault (6-09.00), junior Jackson Cooley in the 55 meters (6.74), freshman William Watson in the 55 hurdles (9.05) and the boys 4x800 meter relay team of senior Webb Nims and juniors Stephen Esse, Vincent Prudhomme and Alex Beckner (8:47.79).