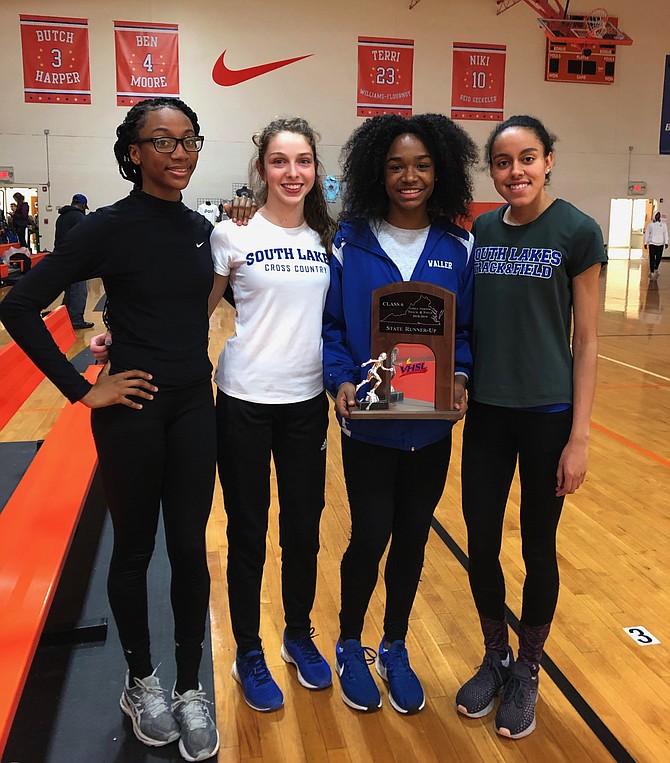 Going into the final event of the meet, South Lakes High School only needed to finish ahead of South County High School to preserve second place at the 6A State Championship.
They did that and much more at the Boo Williams Sportsplex in Hampton, Va.
Juniors Mary Gregory, Emily Lannen, Hannah Waller and sophomore Juviannadean Mullings won the 4x400 meter relay with a school and state meet record time of 3:54.75, topping not only South County but race favorite Western Branch High School.
It's the second consecutive runner-up finish for the SLHS girls track team. The Lady Seahawks scored 49 points and were followed by South County's 40. Western Branch won the title again, this year with 77 points. There are 52 schools in 6A.
The school record of 3:57.52 was set by Kristen Cohen, Misty Johnson, Jeraldine Cofie and Carielle Doe during the 1995-1996 season. The state meet record of 3:54.98 as set by Oscar Smith High School in 2016.
Waller led the team scoring by winning the long jump in 18.08.75, finishing second in the 55 meters (7.05) and third in the 300 meters (39.29). Mullings teamed with freshman Jillian Howard, junior Rhema Konadu and senior Nicole Post for second in the 4x200 meter relay (1:45.52).
Gregory and Lannen also scored in individual events. Gregory was sixth in the 300 meters with a personal-best time of 40.44. Lannen also had a personal best time in finishing sixth in the 1,000 meters (3:02.04). Senior Samantha Van Haaren was seventh in the high jump (5-00.00).
Junior Caleb Miller was sixth in the shot put (47-08.25) for the boys team that finished 34th. Senior Asher Levy-Myers finished eighth in the pole vault.
SLHS will close the indoor season with a select group participating in the New Balance Nationals March 8-10.