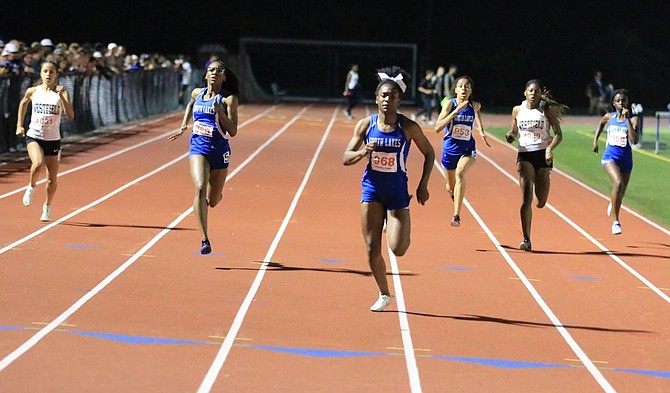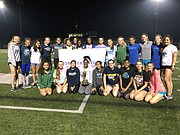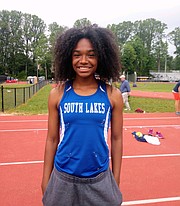 Winning all three relays combined with dominating performances in the jumps and sprints propelled the South Lakes High School girls team to the 6A Region D track and field championship May 23 at James Robinson Secondary School in Fairfax.
The Lady Seahawks scored 166.50 points to win the title, more than 100 points ahead of second place George C. Marshall High (65) and third place Washington-Lee (63.50).
Senior Isabelle Gulgert, juniors Caitlyn Morris and Emily Lannen and freshman Annika Yu won the 4x800 in 9:26.50 on the first day of competition to begin the relay domination. On Day 2, seniors Jordan Anderson, Nicole Post, junior Rhema Konadu and sophomore Juviannadean Mullings ran a 48.83 to win the 4x100 meter relay. Anderson, Lannen and juniors Mary Gregory and Hannah Waller closed down the meet by winning the 4x400 meter relay in 3:56.41.
In between the relays, the girls showcased their talents in several individual events led by Waller's record-setting performances. Waller, who finished second in the long jump (17-06.25) on Day 1, came back the second day and won the triple jump (38-06.00), 100 meters (11.98) and 200 meters (24.21). In winning the 100, she broke the region record 11.99 set by Olympian Murielle Ahoure in 2005, when she was a student at Hayfield Secondary School.
Along with Waller, region champions for the Lady Seahawks include:
Gulgert in the 1,600 meters (5:02.46). Morris was fifth (5:05.44).

Gregory in the 400 meters (56.16). Howard finished fourth (57.80). Gregory was also third in the 200 meters (25.48).

Post in the 300 meter hurdles (45.22).
Lannen finished second in the 800 meters (2:16.22) as did Mullings in the 200 meters (24.85) and Konadu in the 100 meters (12.32).
Sophomore Amelia DiBiase finished fourth in the pole vault (9-03.00), marking the first time in school history that both genders will be represented by SLHS at the state meet.
For the SLHS boys team, junior Caleb Miller won the shot put (50-02.25) and finished third in the discus throw (137-00.00). Junior Jackson Cooley finished third in the 100 (11.01) meters and fourth in the 200 meters (22.25). Senior Nicky Napolitano was fourth in the 400 meters (50.59).
South Lakes will compete in the 6A State Championship meet May 31-June 1 at Todd Stadium in Newport News.