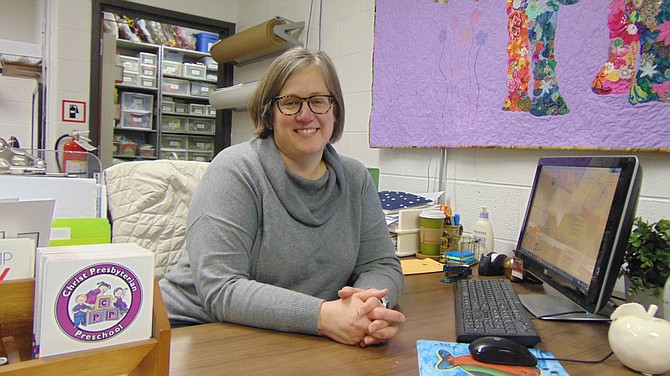 Diane Volcansek, 47, of Herndon is the new executive director of the Northern Virginia Association for the Education of Young Children, which has 1,100 members and covers Fairfax, Arlington and Loudoun counties as well as the city of Fairfax and Alexandria. She also works as the director of Christ Presbyterian Preschool, which has 110 students, along Route 50 near Fairfax/Chantilly.
Her new position is important, she says, because the early childhood education world is so varied. It includes in-home daycares where the employees have a high school diplomas all the way up to private schools where the teachers have upper-level graduate degrees, but they all affect the world of a young child.
"NVAEYC hopes to standardize the continuity of care and professional development for these educators. We also hope to be a voice for those who work in the early child education field as policy and local and state laws are developed," she said. Up until about a year ago, the organization was all-volunteer.
She said her mission is to promote high-quality early learning for every child from birth to age 8. "We connect practice, policy and research to support all who care for, educate, and work on behalf of young children in Northern Virginia," she said. They are an affiliate of the National Association for the Education of Young Children.
"My job is to coordinate with the volunteer board of directors to make sure that we have an outreach program to those who serve young children in the Northern Virginia area — to meet and collaborate with local elected officials, School Board officials, early childhood education professionals — to help them grow and learn in early childhood concepts," she said.
She added: "We train early childhood professionals on best practices based on the latest research and we advocate at the local and state level for the policy to best benefit young children."

They provide professional development workshops to early childhood professionals in the area. "We offer training on different concepts teachers can take into their classroom — behavior management, math and science curriculum, mental health and other current topics," she said.
Part of her job is also community engagement. They conduct family events where they help educate parents to engage them in developmentally appropriate activities. They hold arty parties where they engage young children in creative art processes in libraries and other settings. They've also hosted book clubs and book stores with guest readers. The Week of the Young Child held in April is where they explore different areas of child development and celebrate what young children are capable of doing.
They also help in the preschool accreditation process. The National Association for the Education of Young Children provides an accreditation system for early childhood programs and they help local schools reach that accreditation. Since 1985, the NAEYC accreditation has served as a transformative quality improvement system that sets professional standards for early learning programs and helps families identify programs of the highest quality, she said. The accreditation process can take two years and there's also a renewal process.
According to Rosemary Kendall, Ph.D., co-president: "We are excited to have Diane Volcansek as our new executive director. She brings to the job enthusiasm, experience in a variety of early care and education settings, and an understanding of the importance of teamwork and involving new partners. NVAEYC currently provides professional development and scholarships to early childhood educators in Northern Virginia. We also advocate for local, state, and federal efforts to promote high-quality early learning for every child birth through age 8. Her leadership will help NVAEYC continue its work in all these areas."