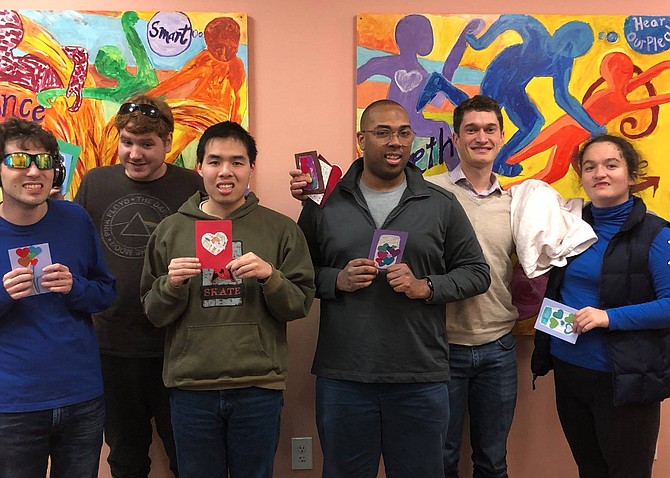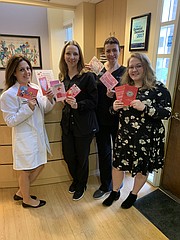 For Valentine's Day 2019, hundreds of individuals, groups and businesses across Reston, Herndon and beyond helped do something positive for someone else by volunteering for two initiatives produced by Barbara Foundation of Reston, a charitable organization founded in 2017 by Kevin Barbera. Barbera is well known in the community for inspiring others to engage in the community and help those less fortunate. Earlier this year, the foundation announced on social media two unprecedented events for the all-volunteer non-profit organization.
First, Barbera Foundation established the "10,000 Valentine's: Independent Initiative!" seeking to obtain by Feb. 5, ten thousand hand-written Valentine's Day cards specifically written for disabled Veterans, active-duty U.S. military troops stationed overseas, children at local hospitals and the homeless. As the initiative's deadline passed, Barbera said, "The cards are still coming in, so I'll have to keep you posted on whether we hit the 10k mark…The nice thing about this event... everyone who participated had an invaluable impact on those in need, but also brought much joy to their own lives and to those who are closest to them," said Barbera. On Sunday, Feb. 10, "Delivery of 10,000 Valentine's Cards" began as volunteers picked up assigned batches of 500-1000 cards for delivery to children's hospitals, veteran organizations and a homeless shelter.
BARBERA FOUNDATION tapped into social media to spread the word about the one-off volunteer opportunities. "Social media has been very effective in spreading awareness of the 10,000 Valentine's initiative," said Barbera. Card-writing events sprung up across the region as volunteers posted notifications on Facebook, Instagram, Twitter, LinkedIn, Nextdoor, Craigslist and volunteer blogs, "This wouldn't be possible without social media," exclaimed Barbera.
As the "10,000 Valentine's: Independent Initiative!" closed, Barbera named the top three local producers: Beloved Yoga of Reston, the Tribe of Growing Kids Therapy Center (GKTC) in Herndon, and Reston Serenity Smiles. "Service is an important part of living the path of yoga and connecting to community. We loved being part of this initiative with the Barbera Foundation," said Maryam Ovissi, Founder, Beloved Yoga.
Members of the Tribe at GKTC in Herndon directed an independent card writing initiative of their own, inviting members of the community and Northwest Federal Credit Union to support their effort. The Tribe is a group of non-speaking young adults with motor and sensory differences who meet weekly at GKTC. Members use "Spell to Communicate" (S2C) to fluently express their thoughts and ideas to others. "I love having opportunities like this, where I am able to give back to the community. Even if it is just a simple gesture like a Valentine's Day card, I like to think we are putting smiles on people's faces," said Ian Nordling of Herndon.
On Feb. 6, the Tribe handed Barbera 210 Valentine's Day cards to be delivered to servicemembers treated at Walter Reed National Military Medical Center. Each card was handcrafted and inscribed with a personalized greeting specific to servicemembers. "Thank you guys for your help with the Valentine's cards. They look amazing," posted Barbera on his Facebook page.
At Reston Serenity Smiles, staff and patients had created cards for the drive. "Everyone deserves to feel special," said Hudo Kazemifar, DDS Reston Serenity Smiles.
"This has been an incredible experience. As more people give back and volunteer, I am personally more motivated to ramp up the efforts of the Barbera Foundation and further our mission of positively influencing and lifting up those who need it most," said Barbera.
FOR INFORMATION on other volunteer opportunities, including the foundation's upcoming "Luck of the Irish" Dinner for approximately 200 low-income elderly people living at a shelter in Reston, visit www.barberafoundation.org."
Cards' Recipients
Barbera Foundation Volunteers delivered their Valentine's Day cards to the following organizations:
CHILDREN'S HOSPITALS
· Children's National Medical Center
· Inova Children's Hospital
· Mt. Washington Pediatric Hospital at Prince George's Hospital Center
· MedStar Georgetown University Hospital - Pediatric Hematology and Oncology
VETERANS ORGANIZATIONS
· Walter Reed National Military Medical Center
· Disabled American Veterans
· Paralyzed Vets of America
HOMELESS SHELTER
· Community for Creative Non-Violence