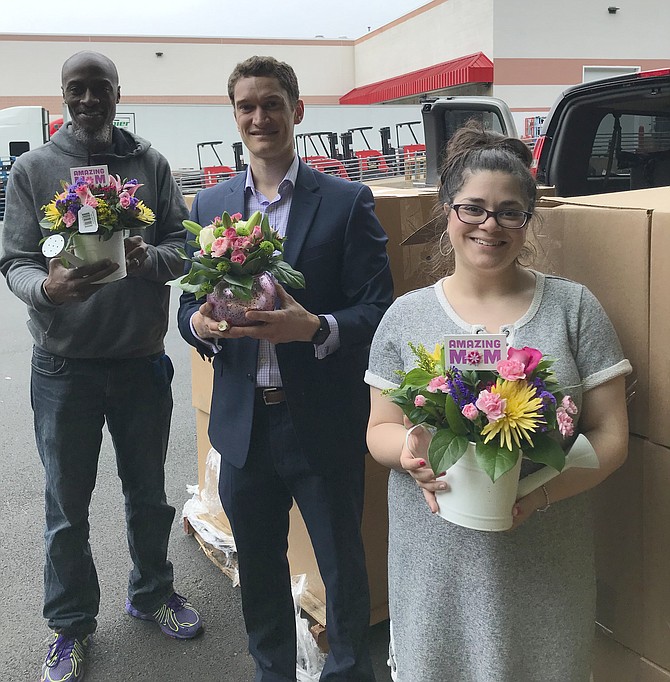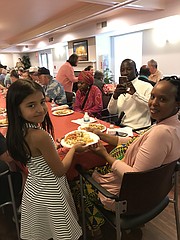 Volunteers from the Barbera Foundation in Reston set out to make Mother's Day special for two sometimes forgotten groups of moms in the local area: mothers who have been victims of domestic violence, and low-income seniors.
On Friday, May 10, in an initiative called "Flower Power," Kevin Barbera, founder of the non-profit Barbera Foundation, along with staff from Shelter House Inc., picked up 100 bouquets and tons of gift cards valued at $3,000 total for delivery to mothers and their families served by Shelter House Inc.
Shelter House is a community non-profit organization that provides crisis intervention support services and safe housing at undisclosed locations to victims of domestic violence and homeless families. "I appreciate this opportunity to come out and help for Mother's Day," said Johnathan Johnson, who drove the delivery van full of flowers. "Case managers will distribute the flowers and gift cards personally, so the moms are surprised and feel extra loved," said Barbera.
Barbera explained that the Foundation raised the $3,000 to purchase and deliver the 100 bouquets and gift cards by organizing various ticketed fundraising events in 2019, such as the Great Falls clean up effort, a yoga class and the next day's Mother's Day dinner preparation and delivery for seniors.
"We sell tickets ranging anywhere from $5-$30," Barbera said. He added that corporate donors also contribute, like McCabe World Travel, Inc. in McLean. "They donated about $1000 just yesterday," Barbera said. All proceeds supported the charitable initiative "Flower Power" according to Barbera.
On Saturday evening May 11, volunteers prepared and served an early Mother's Day dinner to people at a low-income senior community in Herndon. Ticketed volunteers brought a prepared dish of comfort food to serve 10-20 people.
Mom Jenny Luevanos who works at the apartment building brought her two children, Camila 7, and Franco, 11. They happily served the plated dinners to the seniors, stopping to chat a moment with the diners. "I really like to help people, said Luevanos. "It's important to teach children how to volunteer."