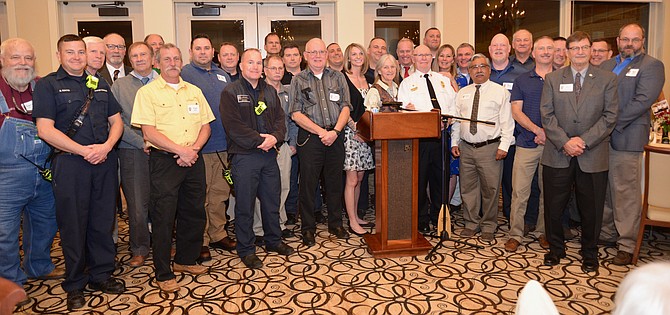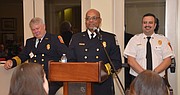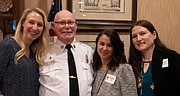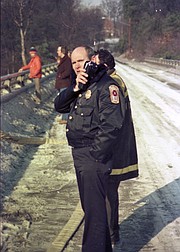 There's no shortage of volunteers ready and willing to step up and add their words of acclamation about their friend, their colleague, their mentor, their leader, Homer Johns – not a surprise when considering that volunteerism has been the cornerstone of Johns' life and many of those around him.
Johns played all those roles – usually concurrently – over the course of his 52 years as a volunteer firefighter and emergency medical technician (EMT) for both the Great Falls and the McLean Volunteer Fire and Rescue services.
Now, at 87 years of age, Johns, who has still been heading six days a week into Great Falls Station 12 – the state-of-the-art building he helped bring into existence back in 2012 – to handle a variety of administrative, training, and fundraising duties, is finally ready to hang up that helmet.
"Well, sort of ready," he acknowledges. "There's a lot of my history here, and a lot of good people that I will miss."
Johns is retiring, selling up his Great Falls home and moving to Staunton to be closer to his son and grandchildren, and many of his fellow volunteers, as well as "career" personnel are wondering just how they will get along without him.
"He's part of the building. I have never known this place without him," said Amanda Liston, who's been a Station 12 volunteer since 2001 and "inherited" the position of station "historian," collecting articles and photos about the history of the fire and rescue service in Great Falls. Many of those articles and photos feature Johns, who first began serving the community in 1971 when he moved there from the Pimmit Hills area of McLean, while continuing his service in McLean and while working his "day job" as a career employee with the CIA.
"He's one of the bricks in this building," agreed Justin Green. Green is a Great Falls resident who also works as a Loudoun County firefighter and has been volunteering at Station 12 for 23 years. "Homer has just always been here and always been an important part of what goes on here and getting things done."
Johns has firefighting in the family background, with an uncle who worked the job in Baltimore.
"I used to visit him at the station with my cousin," said Johns, but as interesting as his uncle's activities were to the young Homer, it wasn't until he was already working for the CIA that Johns really got hooked on the "hook and ladder" life.
A fellow carpooler from the CIA was a volunteer firefighter for the McLean service and kept his radio scanner live as they travelled to and from work. Listening to the action, and being cajoled by the workmate to consider joining the volunteer ranks, Johns finally did just that in 1967.
TEN YEARS LATER he became the Chief of the McLean Volunteer gang, while – you guessed it! - still working full time for the government and having already moved from McLean to Great Falls and started his volunteer work in his new community.
Over the course of those 52 years serving both "houses," Johns has held every position imaginable, including chief (once simultaneously as chief for both communities), president, assistant chief, treasurer, secretary, trainer, and more – and he's seen a lot of changes to the service and helped usher in more than a few.
The first full Chief to become an EMT when the program was initiated, Johns says he has always been focused on the life-saving "rescue" aspect of the work. He drove the very first ambulance vehicle in Fairfax County with the McLean squad.
"I probably shouldn't tell that story," he said, since he recalls being so "mesmerized" by the mobile first responder conveyance that it wasn't until he arrived at that inaugural call-out that he was told by those already on scene that he had rolled up without his headlights on.
"The emergency lights were so bright, I never even noticed!"
Johns also had a hand in the acquisition of the Fire Safety Trailer and Hazard House for the McLean VFD, now used throughout the community to teach children about household fires and how to plan a fire escape route.
"A little different than the on-the-job training that we got as the actually fire and rescue team," Johns notes.

"I don't think I was ever so scared as on those first few learn-it-as-you-go experiences."
Back in his early days on the volunteer job, trainees were mostly taught by setting fire to old homes donated for the purpose, or just "suiting up and going out with a partner to teach you the ropes at an actual fire. Things have changed a lot since then." Nowadays, career and operational volunteer firefighters and emergency medical personnel are both trained to the same high standards at the Fire and Rescue Academy on West Ox Road, dedicated in 1995.
For the last several years, Johns has abandoned the truck-driving and rescue action for equally important work at the station houses of number 12 in Great Falls and Tower 401 in McLean.
Capt. Mike Allen who commands Station 12 praises Johns as a "linchpin" in the operation of the service, the liaison between the volunteers and the career personnel, "willing to do whatever it takes for both to operate efficiently and in collaboration."
Allen, who laughs that "I was born the year that Johns started volunteering," joined a virtual battalion of colleagues, firefighting hierarchy and public officials who gathered at the River Bend Country Club on Feb. 13 to honor Johns and "give him the best, much-deserved send-off toward his next adventure."
THE RECEPTION AND DINNER was organized by Leslie Smith, another volunteer at Station 12, and one of the trio of volunteers that Johns calls his "three musketeers."
Smith and fellow volunteers Kerin Hamel and Sarah McMichael have grown close to Johns, even though they are among some of the newest recruits.
"He took us under his wing from day one," said Hamel. "He always takes the time to talk, help you through anything," added McMichael. "He really cares and it shows."
From his perspective, John says the "three musketeers" are worth every minute he has spent working with them, since they are so obviously serious and committed to the work. "They are really just my family now."
"I just don't know what we will do without him," said Smith, who worked tirelessly to pull off his retirement bash. "I don't know what I will do without him, quite frankly."
At the party, in addition to accolades from Fairfax County Fire and Rescue Department chief John Butler, Supervisor John Foust (D-Dranesville), Capt. Allen, Great Falls VFD Capt. Doug Wessell, and Great Falls VFD president Frank Smith, letters from Senators Time Kaine and Mark Warner were read, thanking the retiree for his service and presenting him with an American flag that had been flown over the U.S. Capitol Building in his honor.
U.S. Senator Jennifer Wexton sent a representative to the event and State Sen. Barbara Favola and Del. Kathleen Murphy also sent letters of congratulations and thanks, and a flag flown for him over the Virginia Legislature.
Supervisor Foust also used the occasion to announce the selection of Johns as the Dranesville Community Volunteer of the Year, and to present a certificate of proclamation from the Fairfax County Board of Supervisors declaring Feb. 13, 2019 officially as "Homer Johns Day."
Over his long volunteer career with the county, Johns has received numerous awards and recognitions for his service, but these many tokens of appreciation on the occasion of his retirement seemed to leave the usually talkative gentleman almost speechless at times during the event.
In the end, Homer Johns, the man who gave so much to so many in two communities of the county over more than half a century, could only thank those thanking him for the opportunity to serve and make a difference, and for the chance to have made so many friendships and memories throughout the years.
Those friends insist that Johns return to visit as often as possible and if he "doesn't volunteer to do so" according to Capt. Allen, the Shenandoah Valley area might soon see a Great Falls Fire and Rescue vehicle arriving in their neighborhood to escort Homer Johns "back home."