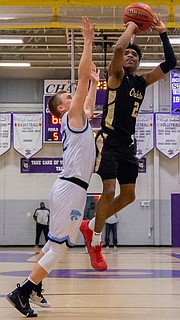 The Concorde District Boys Championship was a matchup of the #1 seed Centreville Wildcats and #2 seed Oakton Cougars with Centreville winning both matchups in the regular season.
The Cougars scored 14 1st quarter points with Micah Johnson-Parrotte scoring 12 of them and Centreville scoring 13.
In the 2nd quarter Centreville took the lead for good outscoring Oakton 16-12 to give the Wildcats a 29-26 halftime advantage.
The 3rd quarter saw the Wildcats add to that lead converting on three 3 pointers bringing their total to eight for the game and giving them a 49-42 advantage with a quarter to play.
In the 4th quarter the Wildcats took full command. Centreville added their ninth three pointer of the game, but most of their work in the quarter was done by getting to the charity stripe where they were successful on 15 of 16. For the game, the Wildcats were successful on 22 of their 25 free throw attempts.
Centreville's 79-55 win was led by Bryce Douglas's 22, Lance Douglas 17 and Chris Kuzemka's 15 points. Oakton was led by Micah Johnson-Parrotte who had a game high 33 points while teammate Garrett Johnson added 9 points. Both teams will compete in the regional tournament. Centreville improves to 18-5, Oakton falls to 14-9.