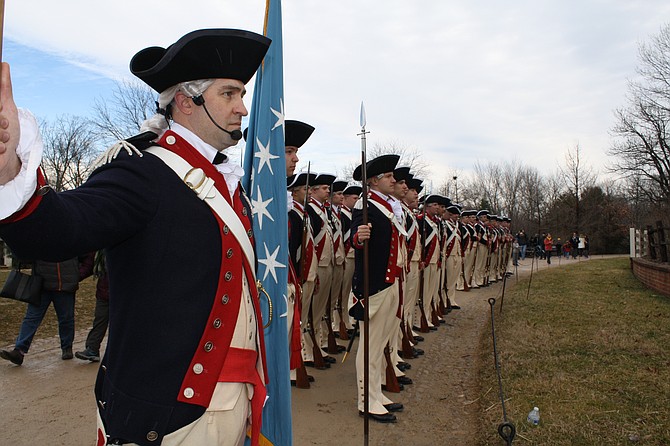 Although George Washington's birthday is now called President's Day on the calendar, it was all about George on Monday, Feb. 18 at the Mount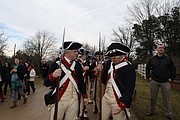 Vernon Estate. Muskets, colonial outfits, speeches and the Old Guard commemorated the first president of the United States of America.
Shannon Rubin of Arlington was there with her children to "celebrate President's Day," and maybe learn a little history as well. Gavin, 10, knew about George Washington already. "He was Commander in Chief of the Continental Army," Gavin said.
It was windy and a bit chilly but that didn't stop Paul Myers, a bicyclist from Manassas who parked in Belle Haven and rode the rest of the way with a cyclist group. "We wanted to do something to celebrate freedom," he said.
The crowd gathered in front of the mansion to see the U.S. Army 3rd Infantry's "Old Guard," do re-enactments, marching and shooting, which startled the crowd at first. There was a cannon fired as well, as the announcer described the uniforms and formations. "They're armed with a smooth bore musket," he said.
Jessica Lynn sang "God Bless America," and the afternoon continued with a musical salute to the first president by the fife and drum corps, a salute to service members from the USS George Washington, and a tribute at the tomb.
Inside the reception area, author Jeff Finegan was signing copies of his three books in the "I Knew George Washington," series. Finegan is from New Jersey and wrote the books through the eyes of "Billy," one of Washington's slaves.