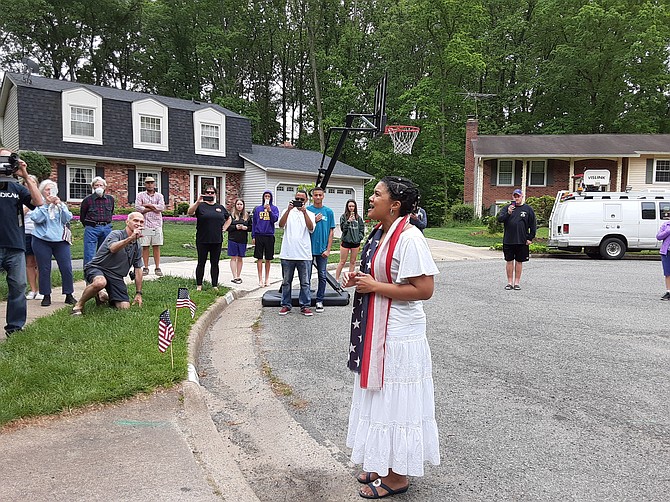 A combat parachute drop on the island of Corregidor during World War II, followed by escaping the Chinese during the Korean War and then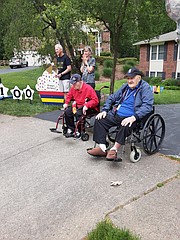 coronavirus pandemic cannot stop Fred Weiderhold, who celebrated his 100th birthday last Sunday to a huge parade of 246 cars full of well-wishers.
"Love it," said Weiderhold, who dedicated his birthday celebration to two buddies of his that did not survive the battle on Corregidor in 1944.
"I wish to god they were here," he said, as he sat out front on the driveway, enjoying all the horn honking, flag waving and a few salutes here and there from the crowd.
The whole birthday celebration started on Saturday, May 16, but the party was cut back due to the dangers of the virus. The impromptu event the next day was supposed to be a drive by of sorts, but somehow the word got out and it exploded. The staging area in the nearby parking lot of Cherry Run Elementary School was full in no time. Everyone stayed in their cars, and were led to the Weiderhold's house by a pair of Burke fire trucks.
"I didn't expect this outcome," said Zada Martin, a neighbor that was credited with spreading the word. "People still care about their veterans," she added.
The festivities included an Army soldier in dress blues who stepped out to salute, a car full of Boy Scouts, signs, flowers, horns, and a truck from Mission Barbecue that brought a box full of sandwiches for everyone. "It's really overwhelming," said Mike Weiderhold, remembering a promise several years ago from his father that he would make it at least to the age of 100. "My dad's tough, he makes a promise, he keeps it, now he'll need some new goal," he said.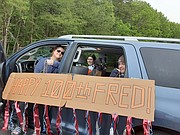 Fred Weiderhold was the youngest of 12 children in upstate Michigan that was born in 1920, and joined the Civilian Conservation Corps during the great depression where he learned teamwork and discipline. Then it was on to the U.S. Army Airborne School and World War II. He made three parachute drops into combat during the war.
He left the Army but reenlisted and went to Korea when that war started as well. After the war, he stayed in the Army and was stationed at Fort Belvoir for part of his time. He finally retired from the Army in 1967, and was in the federal government for years until retirement in 1983.
Parade of Well Wishers
The parade participants noted his time with the Army, and some recognized him as a hero, including Dean Latham who rode in on motorcycles with the Patriot Guard Riders. "I wanted to pay tribute to this hero," he said. He was with fellow motorcyclist Douglas Thompson, who rode with the Herndon-Dulles Riders Group. "We do this stuff for veterans all the time," Thompson said.
A neighbor was happy to see all the outpouring. The Weiderhold family has a disabled son too so they put much time into caring for these two.
"It's amazing, what he has done for us," said Adriana Latham. "This is something we can do," she added.
West Springfield resident Amonica Hubbard sang the national anthem at the end, and everyone on the court sang happy birthday, as Fred tipped his hat to the crowd.