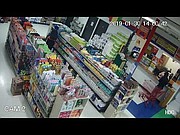 The Fairfax County Fire and Rescue Department is asking for the public's help identifying a person of interest in a fire that occurred on Wednesday, Jan. 30.
At 1:13 p.m., Fairfax County Fire and Rescue units responded for reports of a fire in a bathroom at the Mega Mart located at 8228 Richmond Highway. The fire was extinguished by a fire sprinkler system prior to fire and rescue department arrival. The fire is under investigation.
The person of interest is described as African American and was last seen wearing a blue knit hat, light blue jacket, dark pants, and black backpack. Fire investigators would like to speak with this individual regarding their investigation.
Anyone with information is asked to call Lieutenant S. Khan at 703- 246-4738 or salman.khan@fairfaxcounty.gov.