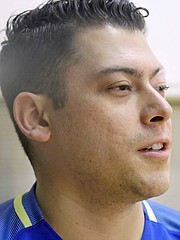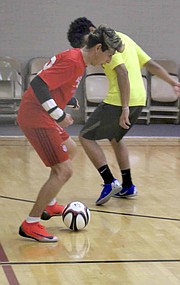 Two squad cars pull into the parking lot of The Church of Jesus Christ of Latter-day Saints on King Street. High school boys pile out and head for their futsal (indoor soccer) practice inside the church.
Gary Argueta and Johnny Larios, T.C. Williams school resource officers (SROs) with the Alexandria Police Department, have started soccer teams at T.C. Williams International Academy as a way to relate to the youths at the high school.
Larios says, "When we started as SROs at TC we noticed there was a large Latino population, but there was a big disconnect between the police officer and the student. "They weren't coming to me and talking to me.
"We looked for a way to bridge the gap and get them to trust us. We're there to protect the school and provide security but we also want to become friendly partners. We're not just there to enforce crimes."
Larios says a lot of the youths don't have people to help out. They are new in the country and living with aunts and uncles. They are working after school. He says, "I didn't have to struggle with working after school and they're not even dealing with going to college. I guess I want to give them something back."
Larios explains the high school has a gang issue. "MS-13 is known to be in the school." He explains that one day there was an incident outside the school where a student was beaten. "They introduced him to me. After that, Gary and I talked about a way we could get them to talk to us before something happened.
"We thought most Latin Americans like to play soccer so we asked if they wanted to sign up and it blew away." Now he and Argueta hold a practice for boys on Fridays and for girls on Tuesdays. They couldn't practice at all last year between games because it was so difficult to find a space. "It's been hard for us with no place to practice."
But this year they were lucky that the church donated their space. Elizabeth Anderson, a church volunteer who comes to open the door for the team and stays for practice, says, "We don't usually rent out the space but this was a good cause, and it's fun." Argueta says their two teams last year were very successful because even without practice they both took first place in their divisions.
A group sigh of exasperation explodes as the ball goes right through the legs of the goalie. "Nobody wants to be goalie, eh?"
Argueta says his motivation for putting in the extracurricular time with these teams after work is to help out the youths who don't have that much opportunity to play at the high school level. He said, "I could be at the gym or doing things I have to do," but he believes in his mission.
Many of the students in T.C. International Academy have only been in this country for a year or two. He looks around the gym and sees Salvador, Honduras, Guatemala. "And I think he's from Morocco." There are about 20 players today but Larios says sometimes there are triple that number.
He says these youths get overlooked. "They may be too shy to try out for the high school team or don't know the language as well. But they are good enough." Argueta has been playing soccer since he was 5 years old. Although he was born in this country his relatives came from Guatemala. "My goal is for this program to develop really good players that will be scouted by colleges or can become mentors to others. "They are really good players. They have what it takes."
After two goals, the players rotate out and are replaced by another group of players. Larios steps in as a goalie, which has always been his regular position. Argueta says they have three teams of boys now who all practice together on Fridays as well as one team of girls who practice on Tuesdays. He says this program could be much bigger if they had transportation for the teams. "It's killing us right now. We had to bring them here in the squad cars." And he points out the team costs money. "We have to pay to be in the league."
"Ohhhhhh." A player has barely missed a goal. Argueta comments, "too much dribbling. he was right there; he should have just tapped it in."
The Optimist Club of Alexandria recently honored the officers in a luncheon at the Belle Haven Country Club for their work mentoring TC students and collaborating with city agencies and groups who support their work.
Argueta says even though he and Larios were born here they know what it's like to come from another country. "We have common cultural understanding. The kids talk to us about problems with girls or maybe about their studies. They look up to us as an older brother or mentor. I'm the person I needed to have to talk to when I was in high school."