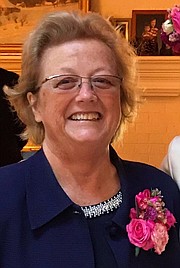 Kathleen J. Murphy, age 71, of Great Falls, Virginia, passed away on Wednesday, Jan. 2, 2019, surrounded by her loved ones.
She was born in New York City on March 24, 1947, and is survived by her spouse Konstantine Tsombikos, her two sons William and John, and her daughter Marika. She is also survived by her four siblings, Pat, Fran, Bob and Ginny.
Kathleen graduated from Marymount Manhattan College in 1968 with a BA in Sociology. She subsequently received her Masters degree in Sociology from New York University in 1971.
Her career as a management consultant spanned three decades and included executive positions at prestigious firms such as McKinsey & Company and Andersen Consulting. While at McKinsey, she oversaw International Business Practice Development with placements in Amsterdam, New York and Mexico City from 1972 to 1983. From 1984 to 1989, she ran her own independent consulting practice specializing in macro project development for large corporations and foreign governments. She was then hired by Andersen Consulting as Worldwide Director to lead the Strategic Services Practice Research out of their New York headquarters from 1989 to 1996. Her career led her to Virginia in 1996, when she was appointed as Corporate Officer and Vice President at Hagler Bailly in Arlington, where she remained until 1998. She was made Partner in charge of products and emerging markets at CSC in Falls Church, from 2000 to 2002.
Kathleen's extensive involvement in the community resulted in her being the recipient of the 2016 Fairfax County Volunteer of the Year Service Award for the Dranesville District. Additionally from 2011 to 2017, Kathleen served as the president of the Great Falls Historical Society, whose mission is to preserve and protect the historic heritage of Great Falls for future generations to enjoy. Her goal from 2006-2011 as the Chair of Great Falls Citizens Association's Long-Range Planning & Development Committee was to preserve and protect the semi-rural character of Great Falls, Virginia.
One of her proudest accomplishments and most loved projects was as the Great Falls Community Farmers Market Manager from 2012- 2019. Her mission was to revive the community space and contribute to creating a village square for the local residents to gather with friends and neighbors, while having access to the farmers and artisans who personally grow their food and create their crafts. Kathleen believed the market's success depended upon the community's consistent collective commitment to sustain it.
Additional projects within the community included the Great Falls Vision Project (2006), the Great Falls 2020 Vision Plan (2006) and being a Member of the Dranesville District Task Force.
She authored 14 publications, such as "NASA in the 21st Century: A Vision of Greatness," for the NASA's Space Resources Journal in 1992, and a book titled Macroproject Development in the Third World: An Analysis of Transnational Partnerships, which was published in 1983 and translated into several languages for the curriculum of universities abroad.
Kathleen's ability to impact others with her positive and encouraging outlook on life was endless. She mentored friends, family and strangers alike, and had the gift of recognizing and nurturing people's natural abilities. She felt that serving her community was one of her most rewarding accomplishments in her life.
Please join us for her viewing from 1-3 p.m. on Saturday Jan. 5, at Christ the King Lutheran Church, 10550 Georgetown Pike, Great Falls, immediately followed by a celebration of life service at 3 p.m. at the same location. Burial will take place on Monday, Jan. 7, 2019 at 1 p.m. at Holy Cross Cemetery in Brooklyn, New York.