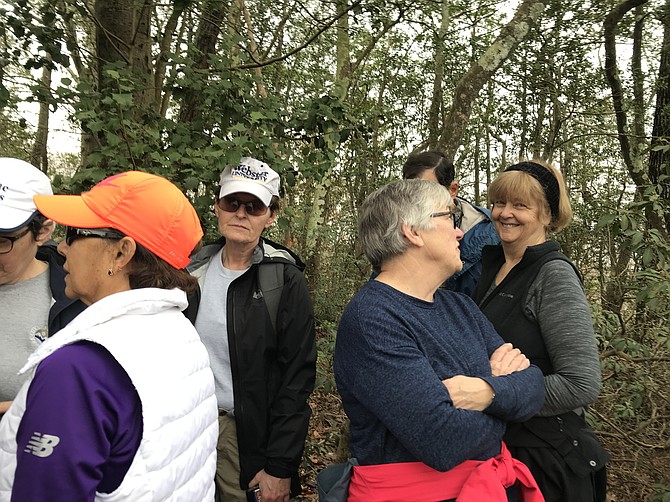 After the sun came up on New Year's Day and some of the Mount Vernon residents shook off the previous night's celebration, District Supervisor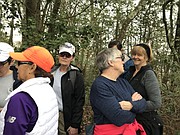 Dan Storck (D-Mount Vernon) led a group of about 60 people on a 3.5-mile hike through Mason Neck Park as part of the Fairfax County Park Authority's First Hike event.
"This accentuates the beauty we have in the Mount Vernon District," Storck said. "It was a little muddy but it was a beautiful day," he said.
Mason Neck Park is off Gunston Road in the southern part of the Mount Vernon District.
According to the county, the Fairfax County Park Authority joined with America's state parks and Virginia State Parks for First Day Hike Programs to encourage everyone to start 2019 with an outdoor hike. "This is the third year for First Hike Fairfax, which began in 2017," said park official John Berlin.
Fairfax County is using the event to kick off the Park Authority's "Healthy Strides 12 Steps for a Healthier 2019, a year of healthy living ideas." As in years before, the county uses it as an opportunity to let people get creative with their cameras for a photo contest.
"The First Hike photo contest captures amazing pictures of people, pets, wildlife and landscapes and highlights the richness of our park system," said Berlin. The photos are used in park publications throughout the year.
According to the FCPA, there are two winners for the contest: a "Judges' Choice" and a "People's Choice" winner picked by park attendees. Both winners will receive a free four-month RECenter pass valued at up to $300.
In 2018 Patricia Strat's wintry photo of Riverbend Park was named the winner of the First Hike Fairfax Photo Contest. The frozen Potomac River was not to be found this year where the temperatures were nowhere near freezing. Last year, the Park Authority received more than 130 photo entries from people who hiked one of five designated Fairfax trails to celebrate the new year, according to the FCPA. The runner-up photo in 2018 was taken by Jane Durrett at Cub Run Stream Valley Park.
In Mount Vernon, Storck liked the comradery an event like this brings. "Participants connect with other people and the natural world," he said.