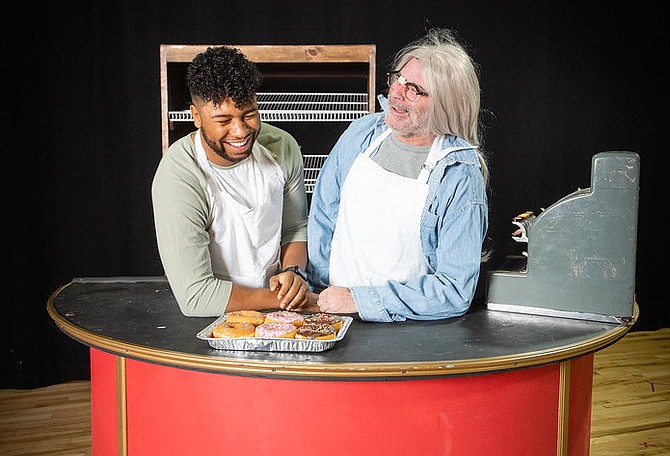 Adding to its rich history, the Reston Community Players opens the New Year with "Superior Donuts." It is a comedy-drama about the building of a cross-racial, cross-generational friendship. If the title seems familiar, it is because before, it was adapted into a recent television series. "Superior Donuts" was a play by award-winning playwright Tracy Letts.

"At its core, 'Superior Donuts' is a play about embracing the pain of the past and the restorative power of friendship. But not only does this play have heart, quite simply, it's funny…really funny and smartly written," said Bryce Monroe, one of the featured actors in the production.

"Superior Donuts" centers on Arthur Przybyszewski (played by veteran actor Michael Kharfen) a burnt-out, former hippie who owns a rundown donut shop in Chicago. He is lost to his past. Then Franco Wicks (portrayed by newcomer to Reston audiences, Bryce Monroe), a charismatic African-American man full of new ideas, begins to work at the donut shop. He too is a man with a past to deal with. Arthur finds new energy. He also finds a way to show his appreciation to Franco. Kharfen and Monroe are joined by Tel Monks, Mattie Cohan, Matthew McCarthy, Sally Cusenza, Ian Brown, Michael King and Tice Rust.
Seth Ghitelman directs "Superior Donuts." The play is about more than just "a rundown donut shop in Chicago and the characters that pass through the shop. On a deeper level, it speaks about the people in a community that is going through changes. It is a play about the American dream and the American experience. It is about how each generation defines them.
"The bond formed between Arthur and Franco is a joy to experience as it builds throughout the play," said Ghitelman.
For Kharfen, his character Arthur "is surprising and unpredictable. While his exterior may appear to be stubborn and set in his ways, he still has in his heart a bit of the rebel of his youth. He carries the weight of his past. He struggles to redeem and forgive himself."

Monroe describes his character Franco as a man with "charming wit matched by youthful optimism in the face of adversity. He's a dreamer and a storyteller with an old, artistic soul."
"Looking for a show where you can laugh, cry, and learn a little bit about yourself all at once, 'Superior Donuts' is one to see," added Monroe.
Reston Community Players present "Superior Donuts" various times and dates through Jan. 27 at Reston Community Center, CenterStage, 2310 Colts Neck Road, Hunters Woods, Reston.
Where and When
Reston Community Players present "Superior Donuts" at Reston Community Center, CenterStage, 2310 Colts Neck Road, Hunters Woods, Reston. Performances Jan. 18 to Feb. 2, 2019. Jan. 18, 19, 25, 26, Feb. 1, 2, 2019 at 8 p.m. and Jan. 27, 2019 at 2 p.m. Tickets: $28 Adults; $24 Seniors (65 and older); and $24 Students (18 and younger). Call Reston Community Center CenterStage Box office at 703-476-4500 or visit www.restonplayers.org. Note: CenterStage is accessible and offers listening devices for the hearing impaired. The production is rated PG-13 because of language and violence.