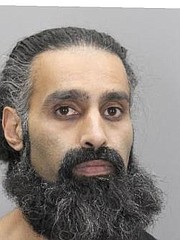 Fairfax County Police Detectives continue to analyze data and work toward identifying the approximately 60 victims who were recorded in dressing rooms over the holidays.
The police are now asking for anyone to contact them who was shopping at Forever 21, Gap, H&M, and Old Navy between Dec. 15-24 at Fair Lakes Promenade, Fair Oaks Mall, Springfield Town Center, and Tysons Corner Center.
More than 100 community members have called the police hotline since Thursday, Jan. 3. Detectives still want to speak to anyone who was potentially videotaped. The police are now providing email and text options to reach them in addition to the dedicated hotline:
Phone: 703-246-4600

Text: 703-718-5806

Email: fcpdtaskforce@fairfaxcounty.gov
"The community's cooperation in this investigation is vital in the successful outcome of this case," said Major Ed O'Carroll, Commander of the FCPD Major Crimes Bureau. "We are incredibly grateful for the community support we have received over the last 4 days, including those people who have called our phone line in an effort to help us identify our unknown victims. We will continue to provide updates as we learn more from our investigation."
Police are asking for the public's help in identifying victims from video recordings found on the phone of 39-year-old Mumtaz Rauf. Rauf was arrested Dec. 24 for the unlawful filming of a minor at the Forever 21 store in Fair Oaks Mall.
So far, the locations and approximate time frames that have been identified are:
Dec. 22, 2018:
1:15. – 2:10 p.m., Fair Lakes Old Navy
2:50 – 3:20 p.m., Fair Oaks Mall H&M
3:40 – 4:15 p.m., Fair Oaks Mall Forever 21
4:25 – 5:45 p.m., Fair Oaks Mall H&M
Dec. 24, 2018:
12:30 – 2 p.m., Fair Oaks Mall Forever 21 and H&M
There is also a time period from 9:15 - 10 p.m. on Dec. 22 where police believe he was possibly at the H&M and Old Navy at Tysons Corner Center.
There were other inappropriate video recordings found on Rauf's phone, including several videos where he secretly filmed up a woman's skirt. Detectives are also working to process 13 additional pieces of electronics including laptops, desktops, and tablets. The FCPD Neighborhood Patrol Unit is canvassing Fair Oaks Mall and Tysons Corner Center to see if employees recognize Rauf. Police are also investigating whether illegal images have been shared or placed on the internet. Rauf is currently behind bars with no bond on unrelated drug charges.