"In my Ideal Arlington County, all driveways would be constructed of permeable material instead of cement and Macadam, to minimize stormwater runoff." —Jennifer Soles, Arlington County Naturalist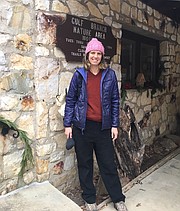 On Saturday morning, a fairly mild winter's day, the volunteer group which was supposed to be removing invasive species from the Gulf Branch Park was nowhere to be seen. Instead, one lone worker — you could tell she was there to remove plants because of the pruning saw in her hand — stood threading her way through honeysuckle, ivy, and wineberry.
Jennifer Soles, the park's naturalist, greeted a curious resident cheerily. No one had come to help her remove ivy, which slowly kills the trees, and other vines which cover the ground so that native wildflowers cannot grow there. "That's rare," she said. "I usually get between 2 and 20 volunteers on Saturdays."
As she tore ivy from the trees, Soles talked about park management issues. Invasives are the biggest concern because it's such a tough problem. She once looked at the territory covered by invasives and calculated it would take until 2085 to clean up the park. Fortunately, the county started hiring contractors who can come in and help. Now, because of volunteers who help reduce the ivy and other invasives on weekends, she can say the park is about 90 percent clean.
Her second major problem is dogs off leash. These dogs aren't even off leash at their owner's side: they are out of sight of their owners, running free through the woods. That's a problem for many reasons, but one very personal one for Soles is that the dogs often defecate in the woods, and the owners can't see where it was to pick it up or think "it's OK because it's not on the path." Soles can be weeding ivy and put her hand right in fresh dog poop. "That's not fun," she said, "and it's happened more than once."
The last major issue for the park is stormwater management. Neighbors have noted the odd looking water in Gulf Branch and the sewer effluence area off Utah Street. "There has been a lot of construction in Arlington, Soles said, "and a lot of trees taken down to make room for mega-houses." The more impervious driveways and bigger houses built, the fewer big trees to filter water, the more that water just rushes downhill. "The garbage in the streams," Soles said, "is not garbage thrown in there by people in the park. It's garbage that didn't get picked up 20 blocks away that got brought down with the rainwater. Picking up garbage on your street, no matter where you live, is a good tactic. "Better stormwater management by Arlington County would help," Soles said, "but maybe inserting a few beavers along the stream to build dams would be workable too."
Along with Soles' dream for an "earth day" in Arlington where citizens would volunteer to clean up the garbage along Route 50, is a dream she has that Arlington will build pervious driveways from now on — stone, cobblestone, gravel. She also tries to recruit property owners who live adjacent to Gulf Branch to keep their property free of invasive species, reducing a source of invasive plants and keeping their tall trees healthy. Several neighbors have agreed to her request and the difference is visible.
Soles grew up in Arlington and went to H-B Woodlawn High School. She majored in Environmental Studies in college and came back to the area to work — temporarily she thought. She loved Gulf Branch as a teenager, and used to bring her babysitting charges down to the park to discover nature. That affection for the park turned into a part-time job, and then a full time naturalist position. She likes to educate residents on how to keep Arlington eco-friendly. She can see the difference removing the invasive plants makes: "I've seen the bloodroot spread In those areas we cleaned up, bringing pretty little white flowers in the spring."
Soles sees park users as protectors of the woods she works to keep clean.
To volunteer to remove invasive pants at Gulf Branch, come prepared to work from 9:30-11:30 every second Saturday.