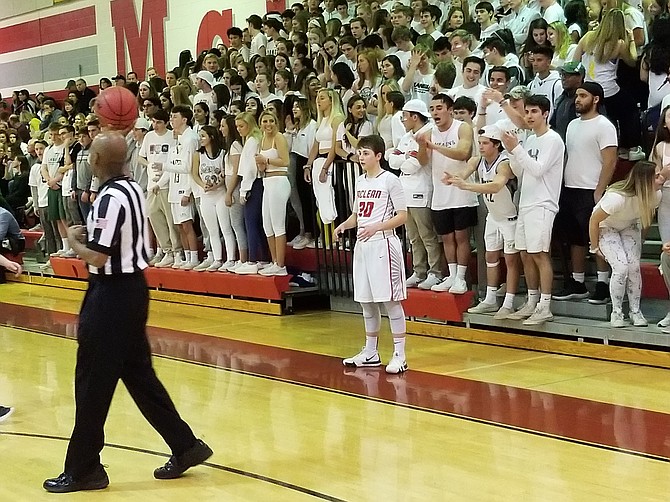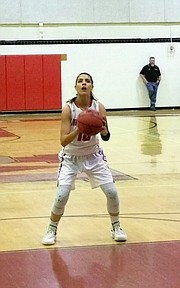 "You want a point guard that is going to be your voice on the court and she has done such a great job from her freshman year to now." —McLean head coach Jen Sobota (about Mariane Auza)
McLean senior point guard Mariane Auza cut through a trio of Saxons in the first quarter and dropped in a layup.
Moments later, she blew past a Langley defender and scored, this time drawing a foul in the process.
Early in the fourth quarter, McLean junior Elizabeth Dufrane knocked down her fourth 3-pointer of the evening, giving the Highlanders a 20-point advantage, and had a few things to say to the Saxon who was guarding her.
In recent years, the McLean girls' basketball team has watched rival Langley earn three consecutive state tournament appearances, including trips to the championship game in 2016 and 2018.
In Friday's rivalry matchup at McLean High School, it was the Highlanders, thanks in large part to a confident, experienced and talented backcourt duo, that played like the superior squad.
Dufrane scored game-high 20 points, Auza finished with 14 and McLean defeated Langley 61-49 on Jan. 11.
THE HIGHLANDERS improved to 10-3 overall and 2-0 in the Liberty District. Langley fell to 6-8, including 1-1 in the district.
"The environment is amazing," Auza said about playing in front of a pair of spirited student sections. "Langley is a great team … [and] has been to the state championships. … [To] show them how good we are now, because we haven't been doing so well in the past [is great]. But this year should be our best year yet and hopefully we gave them a little taste of what is coming."
Auza, who is committed to play for Emory University, is in her fourth varsity season. On Friday, she handled the ball with poise and set up her teammates with nifty passes.
No. 10 also showed off her scoring talents, which have evolved during her high school career
"You want a point guard that is going to be your voice on the court and she has done such a great job from her freshman year to now," sixth-year McLean head coach Jen Sobota said. "It's pretty much, I can just give her a look when she does something and she's like, 'I know.' … We are able to communicate in a different kind of way because she has grown throughout the years.
"The team looks to her, too. She gets beat up a lot and barely comes off the floor. [She] usually guards the other team's best player. Her willingness to do whatever it takes to win and not worry about where she is on the scoresheet says a lot about her character."
Dufrane is one big reason Auza can focus on facilitating. The third-year varsity athlete is a dangerous perimeter shooter who plays with confidence and passion. Along with her 20 points and four 3-pointers on Friday, Dufrane received a technical foul for reacting to a foul call.
"Elizabeth is a great player, one of the best shooters I've ever seen," Auza said. "When she's on, she's unstoppable."
Sobota said Dufrane has grown into a leader and spends "countless hours in the gym."
"It's nice to have somebody like her on the court," Sobota said. "… [W]hen you need some points and she gets a look, it is pretty much two or three, [depending on] where she is shooting from."
THROUGH THREE QUARTERS on Friday, Auza and Dufrane combined for nearly as many points (27) as the Langley team (31).
"The 1-2 punch is huge," Sobota said. "They feed off of each other very well and that had been a growing relationship, as well. … they have grown to trust each other a lot more. They realize that without the other, the other one usually struggles. I would venture to say they might be the best 1-2 punch in our conference."
The Highlanders led 15-8 at the end of the first quarter and 33-16 at halftime. Senior forward Natalie Hedrick scored a pair of buckets late in the second quarter, giving McLean a 17-point lead at the half.
Hedrick finished with 11 points.
McLean was scheduled to face Lee on Monday and Washington-Lee on Tuesday, both games coming after The Connection's deadline. The Highlanders will host Yorktown at 7:30 p.m. on Friday, Jan. 18.
"I feel like this definitely is another step up to moving on to being a great team in our conference," Dufrane said about beating Langley. "… McLean … is not who you think of when you think of the Liberty Conference. We want to be like, that is us. We are the Liberty Conference. We want to be No. 1 and we want to show everybody we are No. 1."