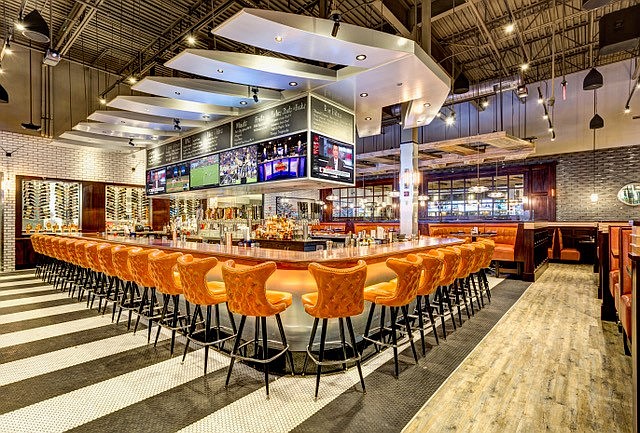 In February, diners at Springfield Town Center will have another entrée on their list of dining choices, when Maggie McFly's opens. The Connecticut-based restaurant specializes in a teriyaki bowl, pot roast, jambalaya, and fresh turkey with a side of house-made apple stuffing, made with locally-grown ingredients.
"We're huge on local and fresh," said Carrie Koscal, the marketing manager.
They use Sweet Sophia honey from Lake Ridge, cupcakes from Soul Cakes in Woodbridge, beer from Port City in Alexandria, and coffee from Cervantes in Springfield, among a list of other locally sourced products.
Maggie McFly's opened its first bar and restaurant in 1993 in Middlebury, Conn. It currently has five Connecticut locations and one in Virginia Beach. They picked Springfield to "expand the brand in the direction we're looking to go," said Koscal. The Springfield location will be a 6,800 square feet space, that seats 217 inside and 52 on the patio.
Although they have one location in Brookfield, Conn. with a backroom golf-themed facility that has a computer interactive aspect, the Springfield restaurant will be very much like the Virginia Beach location, with a central bar, booths, lots of glass and green neon lettering out front. Construction is finishing up at their location between LA Fitness and Zinburger on the Loisdale Road side. Like some other restaurants at the town center, it will only be accessed from the outside, not the shopping interior.
Although Virginia Beach is known for the summer vacation crowd, Maggie McFly's is located in Lynnhaven Mall there and caters to the locals. "It's super military heavy," Koscal said of the clientele, and noted their location in proximity to Naval Air Station Oceana. There's an aviation theme that will be present at Springfield as well.
Mike Jay works out at LA Fitness and has watched the restaurant construction as he comes and goes. He grew up in Philadelphia and goes to Maggiano's at the town center a lot, but feels Maggie McFly's will attract diners on restaurant row in Springfield. "It fits the destination mode," he said.
The founder, Ray Harper, looks to be part of the community as well, working with charities and donations. "In Connecticut, we do a lot of soup kitchens," said Koscal.
Don Cordeiro will be the new manager, and he got his start at the Virginia Beach location, as did some of the others on the new staff. They are hiring as well, looking for "amazing people that could contribute something great to the team," Koscal said.