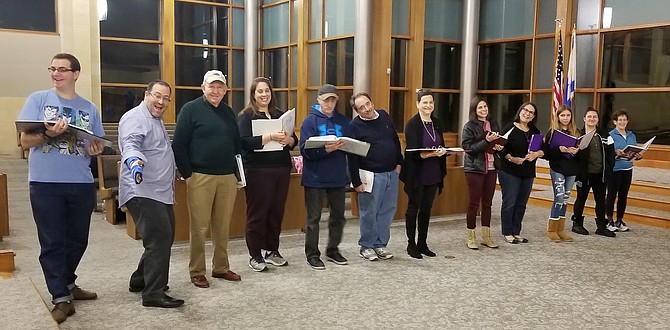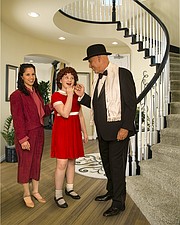 Travel with the always optimistic Annie as she moves from the "Hard Knock Life" with Miss Hannigan to "Easy Street" with Daddy Warbucks when the Har Shalom Players perform the musical Annie this weekend.
"'Annie' — a musical tale of the adventures of a street-savvy, spirited orphan — is the Har Shalom Players' 2019 show," according to Barbara Weckstein Kaplowitz, publicist for the theater group. "Set in 1930s New York, the musical follows Little Orphan Annie as she escapes the scheming Miss Hannigan to search for the parents who abandoned her; encounters some slippery tricksters along the way; and finds the true meaning of family with the help of millionaire Daddy Warbucks."
Kaplowitz said the performance includes a cast and crew of 59 — including children and teens from ages 7-17, representing 11 area schools. Together, she wrote, "[They] bring this vibrant story to life."
Annie is played by 11-year old Ziva Greenblum, a sixth grader at Charles E. Smith Jewish Day School.
"The fun part of this is Ziva came to audition because our musical director is her piano teacher," Kaplowitz said.
Kaplowitz said the ensemble is also a family affair, with four or five parent/children duos in the group.
The production team for "Annie" is led by Shelly Horn, director; Paul Rossen, music director; Deb Schapiro, assistant director and Ken Lechter and Stew Remer, producers.
The show will be staged in Congregation Har Shalom's Burke Sanctuary, 11510 Falls Road, Potomac, with performances scheduled for Saturday, Jan. 26 at 8 p.m. and Sunday, Jan. 27 at 4 p.m.
General Admission tickets are $22 for adults and $18 for children (12 and under). Chai Patron tickets, which include guaranteed front row seating, a voucher for intermission refreshments, reserved parking, and special recognition in the playbill, are $180 each. Patron tickets, which include reserved/preferential seating, reserved parking, and special recognition in the playbill, are $100 for adults and $36 for children (12 and under).
Tickets can be purchased online at www.harshalom.org/play or by calling 301-299-7087. For information on group sales, email play@harshalom.org or call 301-299-7087. Ticket pick-up and check-in begins one hour prior to the show.
"Annie" is the 14th annual production from the Har Shalom Players. Past shows include: "Bye Bye Birdie," "Damn Yankees," "Fiddler on the Roof," "Hello, Dolly!," "Joseph and the Amazing Technicolor Dreamcoat" (original HSP show, 2004, revival 2017), "The Music Man," "Oliver!," "Once Upon A Mattress," "The Secret Garden," "Seussical the Musical," "Shrek The Musical," and "The Wizard of Oz." The HS Players' performance of "Annie" is presented through special arrangement with Music Theatre International.