Coinciding with the 75th anniversary of the movie, The Har Shalom Players of Potomac is skipping down the yellow brick road with its theater-in-the-round production of L. Frank Baum's classic "The Wizard of Oz" on Jan. 25-26.
The show features a cast of 51 — including children and teens — from eight area schools. Show dates are Saturday, Jan. 25 at 8 p.m. and Sunday, Jan. 26 at 4:30 p.m.
Jeff Ashin, 58, of Bethesda, plays the Cowardly Lion. The past-president (three terms) of the synagogue is basing his character on the Three Stooges, Jimmy Durante and Snagglepuss — all topped with a Brooklyn accent.
"As we perform, as we sing together, as we learn our lines together, it's been an incredible amount of fun," said Ashin, who also played Rocky in "Damn Yankees." He adds: "We've really made a wonderful community for ourselves."
"We have a lot of fun," said Barbara Kaplowitz of Potomac, whose husband Brett, son Scott and daughter Molly have performed together in six shows. In this production, son Scott, 18, plays the Scarecrow and the rest of the clan is in the ensemble. "It's just a great experience for our family," she added.

Kaplowitz, who handles the communications, said working together to practice lines builds "esprit de corps" as her family chats about the rehearsals. "It's a lot of work, but it's very exciting," she added.
Scott Kaplowitz, 18, who plays the Scarecrow, said: "It's really a fun role because I get to dance around and act goofy, and he's just a very carefree, fun character."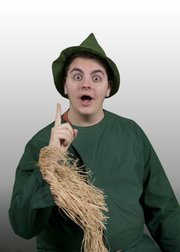 Being Har Shalom Players's ninth play, show producer Ken Lechter said every play has to have three functions: to act as a fund-raiser; to give synagogue members a chance to act and sing, and to create a strong sense of community within the synagogue.
"It's very important for us to choose plays that involve children, so they can have exposure to the theater," said Lechter. "I get a lot of satisfaction out of doing it … And it's very rewarding to create something that has become an institution for the synagogue."
Auditions started in the first week in October and last Sunday the entire cast sang with a full orchestra of 15 members. Said Kaplowitz: "It's really thrilling to watch the growth and development of voices and characters as we go from the very first orchestra and head into dress rehearsal week."
"The Wizard of Oz" is co-produced with Stewart Remer, and directed by Rochelle (Shelly) Horn. The production team includes Musical Director Marci Shegogue, Vocal Director Lee Rosenthal, and Choreographer Karen Creel.
General admission tickets are $20 for adults and $15 for children (under age 13). Chai Patron tickets, which include front row seating, complimentary refreshments during intermission, a special picture with the cast and other Chai Patron ticket holders, a reserved parking space, and a mention in the program are $180 each. Patron tickets, which include preferred upfront seating, a reserved parking space, and special mention in the program, are $100 for adults and $36 for children (under age 13). The theater holds about 600 people. Tickets can be purchased at www.harshalom.org or at http://www.tinyurl.com/WizardOfOzTix. For information on group sales, email play@harshalom.org or call 301-299-7087. Ticket pickup and check-in begins one hour prior to the show.
Past shows of the Har Shalom Playerse include: "Bye Bye Birdie," "Damn Yankees," "Fiddler on the Roof," "Hllo, Dolly!", "Joseph and the Amazing Technicolor Dreamcoat," "Oliver!," "Once Upon A Mattress," and "Seussical the Musical."
Congregation Har Shalom is a progressive, egalitarian, participatory Conservative Jewish congregation with 700 families at 11510 Falls Road in Potomac. Call 301-299-7087.