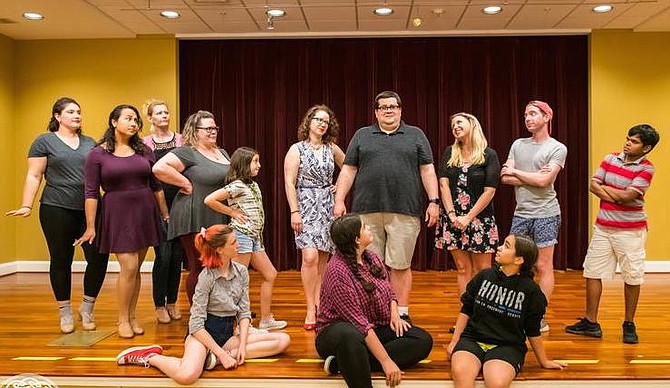 Humor and more await with the musical, "Seussical" arriving at the Alden courtesy of the McLean Community Players. "We wanted to give the community a summer blockbuster that was family oriented," said co-producers Bunny Bonnes and Jerry Gideon.
"Dr. Seuss's 'Seussical' world is fun and adventure mixed with powerful life lessons and role models. The characters will appeal to the 'smallest of small and the largest of large,'" said director Shelly Horn. "The characters come off of the page and dance and sing and tell a story with a great moral about friendship, loyalty and believing in yourself."
The musical "Seussical" brings together dozens of fantastic, imaginary characters created by Dr. Seuss in his many books. "The Cat in the Hat" narrates. The musical is about "Horton the Elephant's" adventures while protecting The Whos. The characters travel everywhere from the Jungle of Nool to Whoville, the Circus McGurkus, and other far off fictional destinations.
"Seussical" Music Director Lori Roddy described the many tunes "as a mix of styles, including show tunes, rock ballads, ragtime, pop, Latin and swing. The McLean Community Players live band will play keyboards, bass, drums, trumpet, trombone and a range of reed instruments including flute, piccolo, clarinets, alto, and tenor and baritone sax.
Keith Tittermary plays Horton the Elephant. "Horton says a line that encompasses his whole character: 'I said what I meant and I meant what I said, an elephant's faithful, one-hundred percent.' He will always do what he promises, even if it means he makes personal sacrifices along the way."
Leslie Lewis portrays Gertrude McFuzz, a very determined little bird. "I love her perseverance throughout the show, doing everything she can to help and be noticed by Horton. While Horton continues to be oblivious and focused on other things, you see Gertrude's desperation and love for him. I just love her spirit!"
The Character of Mrs. Umbroso is played by Summer Hunt. "Does she have any lines? No. She has a delicious and interesting backstory? Absolutely. I'm attempting to communicate all that she has seen and done during her tumultuous life in just a few hand motions and ensemble appearances. This woman is minding her own business, hanging out clothes, and the next thing you know she's thrust into a world of madness."
"Seussical" is a show meant to engage young audiences and adults. Just "open your mind," as one of the song lyrics suggests.
Where and When
McLean Community Players present "Seussical" at Alden Theatre, McLean Community Center, 1234 Ingleside Ave, McLean, VA. Performances: July 12 to July 28, 2019. Fridays and Saturdays at 7:30 p.m. and Sundays at 2 p.m. Tickets are $28 for adults; $23 for tax district residents, seniors, and older students; and $15 for ages 15 and younger. Tickets are available at www.McLeanPlayers.org, by phone at 866.811.4111, and at the Alden Box Office.