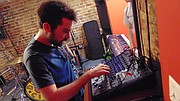 McLean resident Tim Caron, 28, a first-time playwright, composer, co-director, co-producer, and lyricist, will debut his original musical, "The Knights of Salisbury," at D.C.'s Capital Fringe Festival July 13-21, 2019. The play with a cast of 12 members is a rock-musical set along the North Shore of Massachusetts in the mid-1960s. It follows four high-schoolers who form a band and the young married couple who agrees to be their managers. Caron said the show is based on childhood memories, experiences playing in bands, and his relationships with parents and friends.
Before moving to the area in 2009, Caron who is an attorney, spent his childhood in Andover, Mass. He said he was partly inspired by Bruce Springsteen's high school band, the Castiles, which was managed by a middle-aged couple on the Jersey Shore.
"I'm a big Springsteen fan. I read a biography about his band in high school on the Jersey shore and how he was supported by a couple. I took the basic themes of a couple managing kids in a rock band and infused it with my own experience playing music in undergrad and law school," he said.
CARON said he finished writing the play in March 2017, after working on it for one year. "Some of the songs I've been holding onto for years, and this project was an excuse to complete it. The music was a weird mix of some of it from years ago, while some of the songs were relatively recent," he said. In all, he composed 20 original songs for the show.
His goals were to make a good retro show without falling into the trap of having to rely on pre-existing songs. He also added a Lebanese-American character based on his family's own heritage – his maternal grandfather was Lebanese-American. "I hope it helps the audience to have an understanding that the immigrant community wasn't just Irish and Italian," he added.
And with the adults managing the band, he added, "Hopefully the audience will come away with more understanding that rock wasn't just upstart kids being rebels on their own, but getting help from the adults." In real life, Caron performs with a band he co-leads, the Heartless Romantics.
Pete Peterson, 18, of Alexandria has the role of Jake Flaherty, who plays guitar in the show. "He's one of the founding members of the band. He's not as outspoken as the others – a little more shy and less confident. A lot of that stems from his father getting on him for not being the traditional son. Jake is more into music than sports, so in his father's eyes, he's being lazy and not doing things," said the recent T.C. Williams graduate.
AS FAR AS CHALLENGES, Peterson, who will be attending VCU to study cinema, said: "The whole experience was a lot different from the other musicals I've been in because it's an original piece. There's no source material that I can look at other than the demos Tim's given me."
He added: "I'm getting a good experience of how to take an entirely original piece and making it into a finished product." In real life, Peterson plays guitar in the rock band, Chad's House.
Arlington resident William Colligan, 55, who works for the DOD, plays four different roles in the play, including the supportive father named Bill to one of the band mates. "There are different challenges to try to look distinctly different so that takes creative costuming and accents and different ways of speaking," he said. "The other thing I prepared for, I tried to study a Boston accent, which is one of the hardest accents you can do in theater because it's so inconsistent."
"The Knights of Salisbury" will be performed July 13 at 11:30 a.m.; July 14 at 6 p.m.; July 16 at 5:45 p.m.; July 20 at 3:15 p.m.; and July 21 at 8:15 p.m., at the Capital Fringe Festival. The venue, which is Metro accessible, is located at the Westminster Presbyterian Church, 400 I Street, SW, Washington, D.C. 20024.
For more information about the show, visit the Facebook page: https://www.facebook.com/THE.KNIGHTS.OF.SALISBURY/