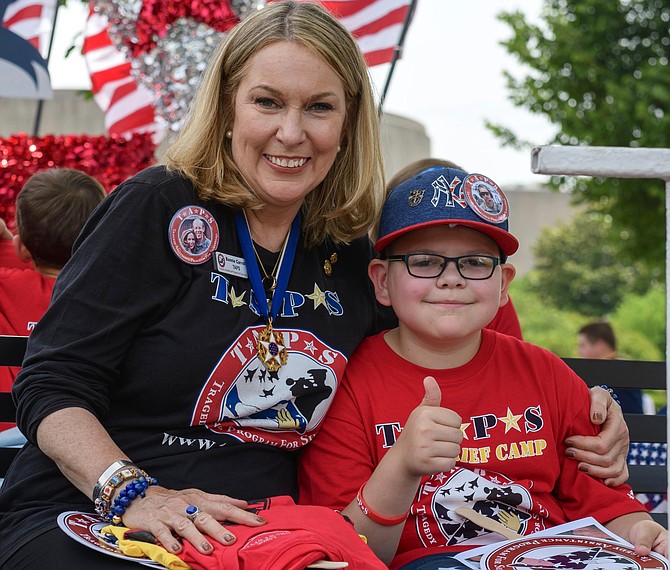 America's Warrior Partnership has named retired Air Force Reserve Maj. Bonnie Carroll as the recipient of the fifth annual Leo K. Thorsness Leadership Award. Named after Medal of Honor recipient Col. Leo K. Thorsness, the award recognizes outstanding leadership and exceptional service to military veterans, their families and caregivers.
Bonnie Carroll is the founder of Arlington-based Tragedy Assistance Program for Survivors (TAPS).
"Leo channeled his experience as a prisoner of war in Vietnam into the inspirational leadership that stood as a guiding principle of our team's mission to empower veterans," said Jim Lorraine, President and CEO of America's Warrior Partnership. "Similarly, Bonnie's own personal experience facing a traumatic loss was the crucible through which she forged her own leadership in serving bereaved military families. She has clearly earned her place among those who embody Leo's spirit."
Carroll is a retired Air Force Reserve major, an appointee in the Reagan and Bush White Houses and a 2015 Presidential Medal of Freedom recipient. She founded the Tragedy Assistance Program for Survivors (TAPS), the leading national organization providing critical support services to the families of America's fallen military heroes, in 1994 following the death of her husband, Brigadier General Tom Carroll, in an Army aviation accident.
For more than 25 years, TAPS has provided ongoing emotional support, resources, comfort and care for more than 85,000 surviving military family members, giving survivors a national network of trained peers, camps and retreats for all ages, including children and families. The organization also offers casework services including financial assistance, connections to community-based care and a 24/7 survivor helpline all available at no cost, for all who are grieving, forever.
"It is a tremendous honor to be named the fifth recipient of the Leo K. Thorsness Leadership Award and to join a distinguished group of recipients who have committed themselves wholeheartedly to our veterans, their families and caregivers," Carroll said. "Col. Thorsness exemplified service and leadership both in and out of uniform, and his distinguishing qualities of humility and bravery resonate deeply with all those who have loved and lost a fallen military hero."
Previous recipients of the award include former U.S. Senator Elizabeth Dole; former U.S. President George W. Bush; Home Depot co-founder and philanthropist Bernie Marcus; and Fox News anchor Jon Scott. Carroll received this year's award at the Sixth Annual Warrior Community Integration Symposium in Atlanta earlier in September.
More information about the Leo K. Thorsness Leadership Award and the Warrior Community Integration Symposium is available at AmericasWarriorPartnership.org/2019-Symposium.
For more information on Tragedy Assistance Programs for Survivors, go to www.taps.org or call the toll-free TAPS resource and information helpline at 1.800.959.TAPS (8277).