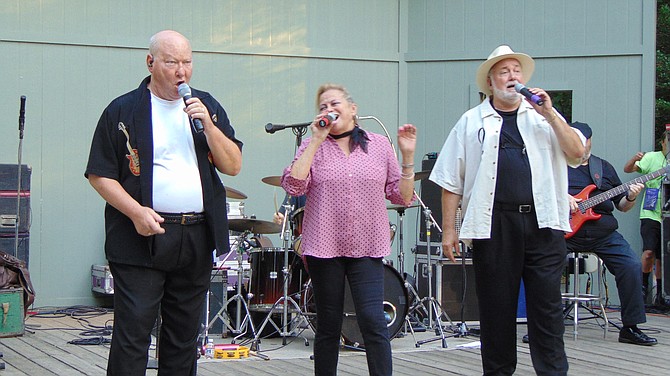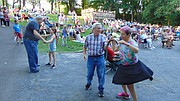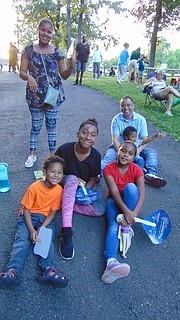 The Fabulous Hubcaps helped kick off the Lee District Nights Summer Entertainment Series at Lee District Park Amphitheater in Franconia on Wednesday, June 26, 2019. Throughout the summer, the free series of concerts sponsored by the Fairfax County Park Authority are held from 7:30-8:30 p.m., and will feature a wide variety of musical acts from jazz to big band, classic to bluegrass, swing to folk and vintage rock 'n roll.
According to Sousan Frankeberger, Performing Director for the Fairfax County Park Authority: "The Park Authority started the Summer Concert Series about 25 years ago, and we started with one small venue and expanded it. Now we offer concert series weekly from Wednesday evenings through Sunday evenings at different park venues throughout the county."
Now there are 160 concerts throughout the county, which includes children's performances on Saturday mornings and evening concerts, plus one series that's international – music and dance from different parts of the world.
She continued: "It's a place for people to bring children and family members, bring a picnic basket and enjoy an evening at the park, under the sun and the trees. We have some good quality shows and we provide genres of every variety – from folk music to Irish rock."
She said the series is sponsored through contributions from donors; no taxpayer money goes towards paying performance fees and the series are held in all Supervisory districts.
"It's a fantastic place for community performing, getting together to know your neighbors, to bring your kids and let them dance and enjoy the music," she added.
"The Mount Vernon-Lee Chamber of Commerce is delighted to host the Lee District Concerts. This is a great way to bring the community together and we love being here tonight with all the people, and the Fabulous Hubcaps are just fabulous," said Holly Dougherty, Executive Director of the Mount Vernon-Lee Chamber of Commerce. "We really appreciate the generosity of the businesses that sponsor the concerts and hope people will remember their local businesses when they need to shop or need a product."
Concerts are held at the Lee District Park Amphitheater, 6601 Telegraph Rd, Franconia. For information, visit www.fairfaxcounty.gov/parks/performances.
2019 SCHEDULE
JULY 3 -- The Nighthawks (Blues)
JULY 10 -- Ruthie & the Wranglers (American Roots)
JULY 17 -- City of Fairfax - Main Street Community Band (Concert Band)
JULY 24 -- The Annandale Brass Ensemble (American Popular Music)
JULY 31 -- Enter the Haggis (Celtic, Rock)
AUGUST 7 -- The United States Navy 'Country Current' (Country)
AUGUST 14 -- Nomad Travels (Dance/Music)
AUGUST 21 -- Junkyard Band (Go-Go, Funk)
AUGUST 28 -- Trio 111 (Rock)