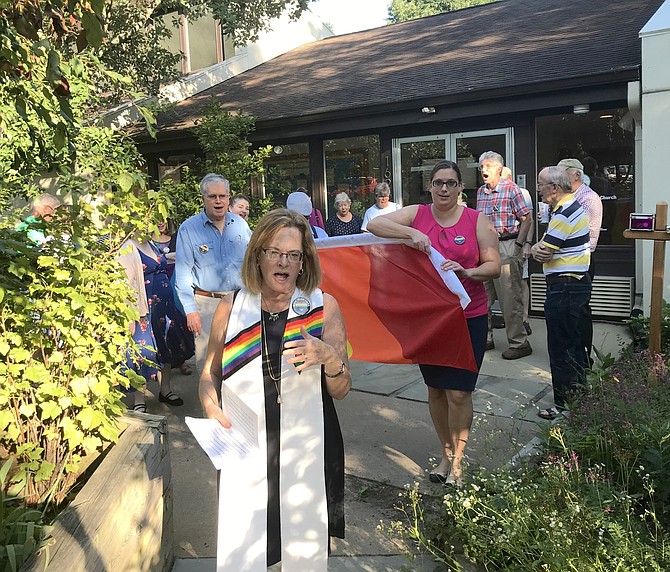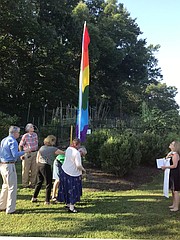 Love rules in Reston. As of Wednesday evening, July 10, once again a Rainbow flag flies night and day and will fly year-round, at the entrance to United Universalist Church in Reston (UUCR) on Wiehle Avenue. According to Rev. Dr. Debra W. Haffner, Minister UUCR, the new Rainbow flag announces to all people they are welcome, and it is a symbol to all who drive by "that sexual and gender diversity is a blessing.
"We affirm we will not be stopped by acts of hate but rather that they strengthen our resolve to live our faith aloud. We affirm our commitment to the LGBTQ+ community in Reston and beyond," said Rev. Dr. Haffner during the Rainbow Flag Reinstallation Ceremony.
July 10 marked nearly one month to the day another Rainbow flag on a pole at the entrance drive to church went missing. That event occurred a week after the church co-sponsored Reston PRIDE festival at Lake Anne, and that theft occurred the third time in three months, said a spokesperson for the church. Jen Dixon, LGBTQ+ Task Force Chair with UUCR said, "We're pleased to be raising our flag to show our PRIDE and support for the LGBTQ+ community once more."
Not to be deterred, Haffner said they would continue to fly a Rainbow flag no matter how many times one is stolen. "May it be a blessing for those who drive by, and may they know they are perfect just the way they are," said Rev. Dr. Haffner.