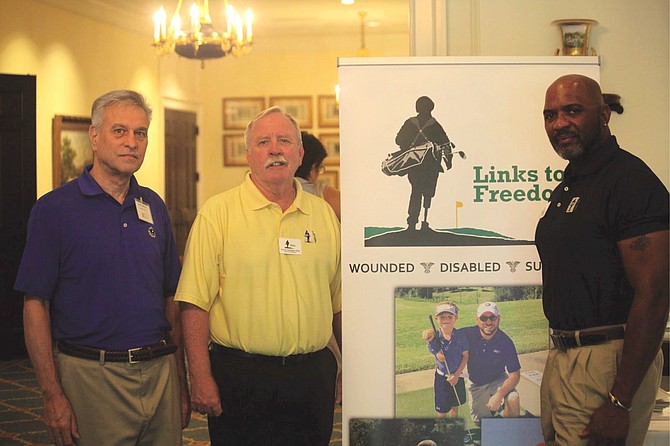 With 45 guests in attendance, five nonprofits represented, and an abundant supply of coffee and eggs, the Mount Vernon Lee Chamber of Commerce's annual Nonprofit Showcase provided a warm, comfortable setting for nonprofit businesses to network, advertise, and build partnerships with other local businesses. The July 11 breakfast was held at the Belle Haven Country Club.
"We do this event to let the community know about the wonderful nonprofit organizations we have in this area," said Chamber Director Holly Dougherty. "We want our for-profit businesses to understand how the nonprofits benefit the community and what can be done to support their missions."
Dougherty has received feedback that this event gives nonprofits much-needed connections and visibility. "That's why we continue to do it every year," she said.
Links to Freedom, a program for injured military service members, disabled veterans, and Gold Star family members that uses golf as a form of therapy and to reintegrate participants into society, was represented at the showcase for the first time.
"I lost 15 soldiers in combat and seven to suicide, witnessed three explosions and dealt with PTSD and traumatic brain injury. This program changed my life completely," said Tony Henry, retired US Army veteran and chairman of the Golf Committee at Links to Freedom. "I want our community businesses to see what this program has done for me so that, hopefully, they will help it in whatever ways they can."
Leif Johnson is the vice president of communications and social media at the Association of the United States Army, a nonprofit that provides support for military families through college scholarships, family fun nights at Ft. Belvoir, and holiday parties. He says philanthropists in the Mount Vernon area have a particular interest in military nonprofits.
"We thought it would be a good idea to have a presence at this event because this area loves military nonprofits," Johnson said. "With all the military families in this area, people really seem to want to fulfill their civic duty of supporting the military here."
While these two nonprofits care for those who have fought battles abroad, other nonprofits care for those fighting a different battle — poverty. Vanisa McCormick, community and volunteer coordinator at Rising Hope, says the biggest "wins" in their work with the homeless and underprivileged sometimes come through simple donations from local philanthropists.
"I love seeing the excitement in people's faces when they can get food for their families, or clothes when they didn't have clothes to wear, or a token to go to a job interview with," McCormick said. "It's this community that gives that to them. Most of our donations are from donors local to this area."
Rising Hope has been represented at the nonprofit showcase since it began.
While most of the event consisted of prepared speeches made by representatives of the five nonprofits present (Association of the United States Army, Christian Relief Services, Links to Freedom, Rising Hope Ministries, and United Community), many of those in attendance came to make connections with nonprofits that could assist their businesses.
"I manage apartment communities and sometimes residents are in need of assistance with rent payment," said Doreen Venezia, a property manager at Meadow Woods Apartments in Alexandria who was attending the showcase for the first time. "I obviously don't want to make them homeless, so I came to make connections with organizations I could point them to when they are in need."
Venezia said she found two nonprofits she hopes to partner with in the future. She also plans to attend the showcase again next year.
"The Chamber of Commerce and this event, in particular, have been considerable resources for all of the nonprofits in our community," McCormick added. "People sometimes tend to forget that nonprofits can't make it without the help and support of others. Even though we are mission organizations, we are still businesses."