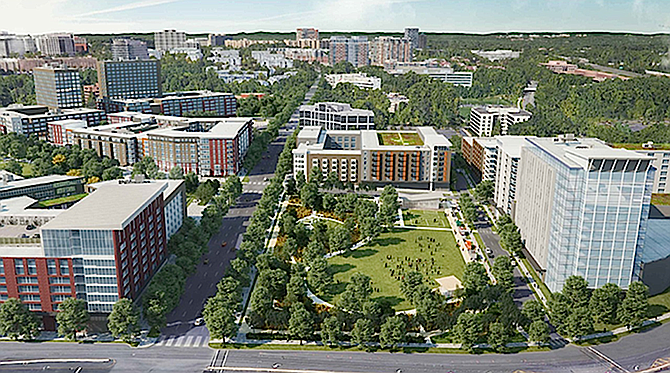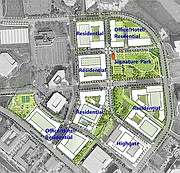 Fairfax County's plan to transform Tysons calls for a central, signature park to serve the entire area, and the newly approved development called The Mile will finally accomplish this goal.
The Fairfax County Board of Supervisors approved the more than 3-million-square-foot, mixed-use development on July 16. The project, which sits about a half mile from the Tysons Metro Station, will deliver a five-acre park that will make up an entire block of the development.
"I love the signature park," said Fairfax County Chairman Sharon Bulova. "It's really going to be a landmark in Tysons."
Long before the county began its efforts to remake Tysons nine-plus years ago, the property's previous owner, West Group, had envisioned a park at this site, according to Providence District Supervisor Linda Smyth.
"So here we are a number of years later and finally coming up with this place for the signature park in Tysons," Smyth said. "And it wasn't easy. You might think about that much acreage in Tysons and what you could do with it. And how much it would cost, just the land value all by itself."
She called it a "lasting achievement for Tysons."
THE MILE will remake an existing 38-acre, suburban office park located between Westbranch Drive, Jones Branch Drive and Westpark Drive. P.S. Business Parks intends to construct 2.8 million square feet of residential development, plus office, hotel and retail uses.
The plan calls for 10 new buildings spread across eight blocks. Five buildings are residential along with supporting retail, and another four buildings include options for either residential, office or hotel uses, plus retail. The 10th building is a 5,000-square-foot retail kiosk planned for The Mile's Signature Park. The approved plans also allow for an option to include 300,000 square feet in mini-warehouse or storage in one of the residential buildings.
These new buildings will join Highgate, a 395-unit luxury apartment building along Jones Branch Road completed in 2017.
As part of its approval, the board also signed off on final development plans for The Mile's first building to be constructed. Tentatively called Exley, the seven-story apartment building with ground-floor retail will offer up to 435 units on Westbranch Drive near the intersection with Westpark Drive.
Overall, The Mile will provide 10 acres of parks as envisioned by the county's conceptual parks plan for Tysons. The project's largest park, called Signature Park, will make an entire block along Jones Branch Drive. At about five acres, it will include a:
Large open lawn.

Performance stage.

Walking, jogging and biking trail.

Children's play area.

Seating and tables.

Bikeshare station.

One- to two-story food pavilion.
THIS PARK will be given to the Fairfax County Park Authority or Board of Supervisors, and the developer will maintain it in perpetuity.
To meet the need for athletic fields, the developer will build a 330-by-180-foot synthetic turf field at an off-site property that it owns on the south side of Boone Boulevard near the intersection with Gallows Road. This field will include lighting, bleachers, storage facilities and at least 25 parking spaces.
The Mile will also help to build out the local street grid in this part of Tysons. The development includes construction of four new streets: Mile Avenue, Rowling Street, Blyton Street, and Maitland Street. Mile Avenue, which will run east to west, will function as an extension of the recently constructed Jones Branch Connector, and the avenue will intersect with Westpark Drive. Maitland Street also will be extended from Hornby Street, where it ends today, to Westbranch Drive.