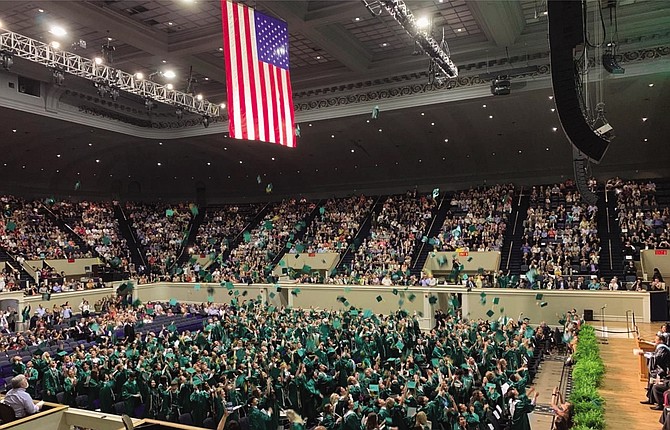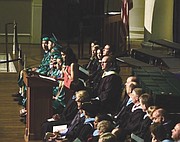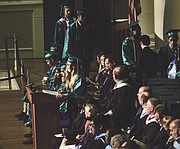 Four hundred and sixty-nine seniors received their diplomas at Langley High School's commencement ceremony on Monday, June 3 at DAR Constitution Hall in Washington, D.C. Approximately one-quarter of these students graduated with honors.
NBC 4's Aimee Cho imparted the students with her wisdom on making the most of the time after high school, urging them to "pick yourself up, dust yourself off, and get right back to it" when inevitable obstacles present themselves.
Cho is currently a multimedia journalist for NBC 4, writing her own scripts, and shooting and editing most of the material she puts on air. In college, she wrote for the Cornell Daily Sun as well as Ithaca College's TV station.
AS A 2013 LANGLEY GRADUATE, the perspective offered by Cho was especially personal to the students sitting in front of her. A member of the debate team and journalist for the school magazine, Cho was an involved and dedicated student.
"Langley prepared us well to go after our goals and open the doors to success," she reminded the students.
"Four years of ups and downs, four years of endless hours of homework… four years of cramming for tests, and doing the twenty-minute run in gym class," she reminisced, going on to tell a few personal anecdotes that had a hand in shaping her future.
Cho reminded the graduates that it's okay to feel unprepared for the "real world."
"By no means do I have life figured out … I eat a lot of frozen dinners, I still need help doing taxes, and I have yet to parallel park my car in one try," Cho reassured the graduates.
In order to help the graduates be ready for the future, she advised them to be ready for obstacles, and to know how to use them to their advantage.
"There will always be unexpected distractions and setbacks," she said. "There will always be people who try to close the door and lock you out, but how you choose to respond to them is up to you."
Cho recounted several occasions of her own failure, and promised the class of 2019 that there will always be second chances and more opportunities.
"The first few months at NBC were rough," she admitted, "they felt like one big closed door."
Not only did Cho once make NBC 4 the last to cover a story because she forgot where she parked her car, she also faced the defeat of missing a deadline and causing the station to scramble for something to air.
"I felt like quitting, but stayed determined to press on," she said. "Although my shift ended at five o'clock, I regularly stayed till 9 p.m. to practice shooting video and editing."
Since then, she has never missed a deadline.
Cho wrapped up her speech with her big takeaway: "In school or at work we will all encounter obstacles, doors to opportunity that seemingly won't open. Pry those doors open. Kick them down," she urged. "All you need is a tiny crack in the door, enough for you to shove your foot in and keep that door open."
SHE ENCOURAGED the graduates to always remember to have patience.
"If you keep at it, you'll be able to squeeze yourself through the door and prove that you belong on the other side," she assured.
As she watched the students commence their high school careers and enter the world with endless opportunity, she advised the students to seize control of their own destiny.
"One day you can even build your own building with your own doors," she said. "And when that time comes, you can be the one to open the door for someone else."