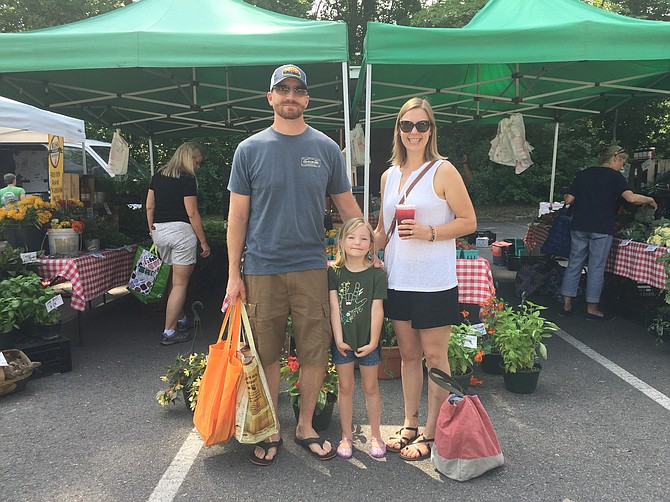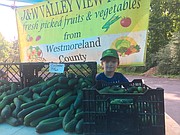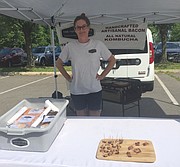 Farmers markets are the perfect place to find a variety of healthy foods and produce. One of the first good qualities of a farmers market that a shopper would notice while visiting the weekly market hosted by Oak Marr Recreation Center every Wednesday is a sense of support for local business as well as welcoming friendliness. Many of the booths are occupied by long time returners. Wanda Catlett, who has operated J&W Valley View Farm since 1992, explains her favorite parts about being a vendor: "Meeting new people and we are proud to have our product out here… we worked so hard to get it all here and then we have our regulars that trust us to grow good crop." Catlett runs her booth with the help of her grandson whom she hopes to one day take over the family business from farming to selling.
Farmers markets are regular destinations for many local people to find organic and trustworthy food that is served with a smile by helpful and knowledgeable venders.
For families like Dessie, Roux and Daniel Berry, the Oak Marr farmers market is a weekly stop for nutritious, unprocessed and better tasting food. "I love supporting the local farmers and I know that it's fresh, within a couple hours of the city," said Roux Berry. The Berry family enjoys meeting new people as well as the homemade popsicles and ice cream for their daughter. There are also other organizations that have booths at Oak Marrs farmers market such as pro-choice and free speech. Farmers markets have more to offer than just fresh produce though, also included in the line up is an Egyptian-style falafel stand, a bakery, and The Fermented Pig; a homemade kombucha and fresh meats stand which has been in business for less than a year. "The pork we get comes mostly from a co-op in central Virginia… as well as local Mangalitsa hogs for pancetta," said Kaye Stansbury, the booth operator.
Mary Kay Clause, the market manager, has nothing but praise for the vendors that come every year, noting their hard work and commitment to the yearly market and above all the community that they have created over the course of its existence. "What I really like about our market is that because they have all worked together for nearly 10 years there is a lot of collaboration and they all play well together," said Clause.