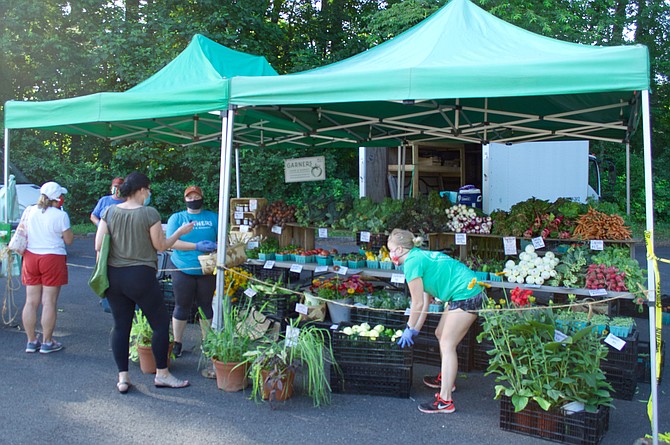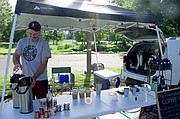 The Oak Marr farmer's market in Oakton opened up on June 10 after being closed for several weeks due to the COVID-19 pandemic. Customers and vendors alike are happy to be able to get back to the market each week after a late start to the season.
"In the past everything was very smooth, we had a set pattern and everybody knew where their spot was and this year is obviously totally different," said Nick Nahas, the manager of the Oak Marr market. In his third year as a manager, Nahas says that nothing in the past has affected the market as much as the pandemic has.
The Oak Marr market has established several new safety precautions in accordance with the Fairfax County Park Authority's farmers market guidelines to keep both vendors and customers safe. Each vendor's table is spaced out to allow for social distancing between both vendors and customers, and despite the added space, Oak Marr still has the same number of vendors as years past. There's also designated entry and exit spaces and a one-way path.
Oak Marr, along with other Fairfax County farmers markets, typically opens in May. The late opening had some effects on vendors, particularly farms that sell fresh produce, and couldn't get out their products earlier in the season.
"We didn't move as much product as we usually do in the spring such as our strawberries and leafy greens and root veggies because the market hadn't opened yet," said Dana Boyle, manager of Garner's Produce, a family owned farm located in Westmoreland County. In absence of farmers markets, Boyle says that Garner's took advantage of their roadside market to move produce along.
Other vendors had to shift their sales in the last few weeks to make up for lost market revenue – like The Fermented Pig, a local specialty food business that sells charcuterie and handmade bacon.
"The absence of markets certainly hurt our farmers market business but we pivoted more toward delivery to meet people's needs during the crisis," said Joshua Plante, founder of The Fermented Pig. "We are fortunate in that we set out two years ago to be an internet business, so when the crisis hit, we already had a very effective website [and] were able to start taking those orders right away."
Vendors also mention inconsistencies in guidelines between the Virginia Farmers Market Association and local authorities – such as wearing gloves – which made the initial reopening difficult and confusing.
Despite the late opening and the threat of COVID-19 still in Fairfax, Nahas says the crowd has been steady with roughly 260 people each Wednesday since their first market on June 10. Vendors say that many of their customers are eager to be back and shopping at the market.
"Everybody's happy to be there," said Brandon Berryhill, the owner of The Traveling Shepherd Coffee. "The people that work there are very apologetic to me because they feel like I'm not busy enough but I feel like I'm actually ahead of the curve of what my projections were. People are getting back to their regular routines – getting confident and comfortable."