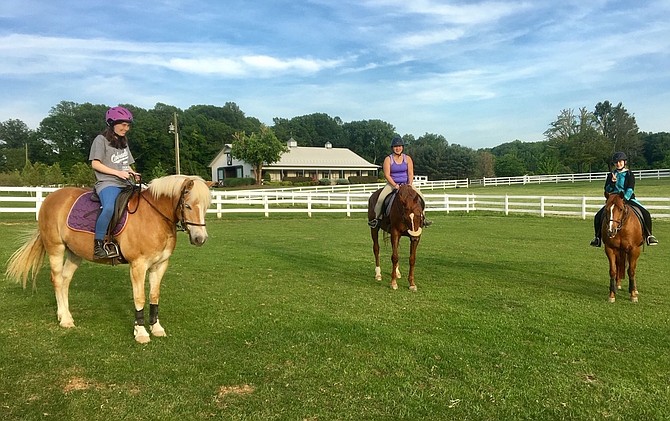 "They took all my clothes and made me walk naked for two days so I couldn't escape," said one woman.
"They kill people over nothing," said another.
These are the descriptions from Latina immigrants of their experiences as they were smuggled from Mexico to the United States. These women and others like them often experience rape, assaults, and gun violence, says Carol L. Cleaveland, PhD, associate professor of Social Work, George Mason University.
In a recent study, "An Exploratory Study of Latina Immigrant Trauma," she and co-author Cara Frankenfeld, PhD, also of George Mason University, spoke with patients at Mason and Partners Clinic in Springfield, Falls Church and Manassas Park who described events that often left them with Post Traumatic Stress Disorder (PTSD). During June, which is PTSD Awareness Month, mental health professionals are working to raise public consciousness of the disorder and a knowledge of the treatments available to those who suffer.
There is often a lack of understanding which makes it difficult to identify said Cleaveland. "PTSD is a shift in how people think, feel and behave in response to a traumatic event they experience. It's something that induces profound terror," she said.
Many of those who are suffering from PTSD aren't cognizant of the symptoms, but gaining that awareness is one of the first steps on the road to recovery. "[Symptoms include] intrusive thoughts and memories of the traumatic event, such as thinking about the event when you don't want to, having flashbacks or having a strong emotional reaction to a something that reminds you of the trauma," said Joanne Bagshaw, PhD, professor of psychology at Montgomery College.
A person experiencing PTSD might avoid people or experiences that are reminiscent of the trauma, says Bagshaw "You [can experience] negative thinking about yourself and the world, such as having traumatic expectations or detaching from relationships."
Managing and healing even severe symptoms is possible with the right strategies. "There are several very good treatments for trauma," said Bagshaw.

Among these healing methods is Cognitive Behavioral Therapy (CBT), a form of psychotherapy that increases one's comfort level by altering dysfunctional emotions, behaviors, and thoughts. Another therapy is Eye Movement Desensitization Reprocessing (EMDR) which involves a patient briefly focusing on the traumatic memory under the guidance of a trained clinician and ultimately experiencing relief from the intense emotions that are associated with the trauma.
"There is research which shows EMDR is highly effective in desensitizing the trauma," says Cleaveland.
One emerging therapy that has not been studied extensively is therapeutic riding. "[It] is teaching people to ride and work with horses with the goal of improving their physical or mental well-being," said Olivia Taylor, program director of Northern Virginia Therapeutic Riding Program (NVTRP). "One of the biggest benefits we see for our riders with PTSD is that riding puts them in the moment, focused on creating a bond with their horse. They're not thinking about past events or being hypervigilant, but feeling peaceful in the moment."
For those who have strained interpersonal skills related to trauma, such as the ability to trust others, therapeutic riding provides a safe space for working on that proficiency, Taylor said. "Horses are empathetic, non-judgmental creatures, so therapeutic riding provides a great opportunity to work on building a trusting relationship with another living being," she said.
As an example, Taylor points to one NVTRP rider who suffers from debilitating and life-disrupting anxiety resulting from PTSD. "Over several weeks of riding, she has developed a very strong bond with the horse she rides," said Taylor. "They share an especially close relationship, and she credits the trust she has in him with her ability to overcome her fears of riding and progress more than she'd ever imagined. We find that this sort of trust and openness to an empathetic relationship carries over into riders' lives beyond the farm, helping them to rebuild healthy lives."
While there are several effective therapeutic treatments available to those with PTSD, the options for patients who can't afford adequate healthcare are limited, says Cleveland. "Right now, in most situations, the only accessible interventions are provided by therapists working pro bono," she said.

The cost of riding therapy at facilities such as NVTRP can be defrayed by donations. One example is a recent Great Gatsby themed fundraiser. "Raising more than $150,000 in a single afternoon sure feels wonderful, but in the end it's about making a difference," said Will Thomas who hosted the fundraiser. "That feeling is priceless."
Cleaveland hopes that opportunity gap can be closed for low- income PTSD sufferers as researchers continue to study, design and test easily-accessible, cost efficient interventions. "It's important for people with PTSD to have hope because they can get better," she said. "The fact that the course of treatment for PTSD can be short, even 12-15 weeks, is hopeful."