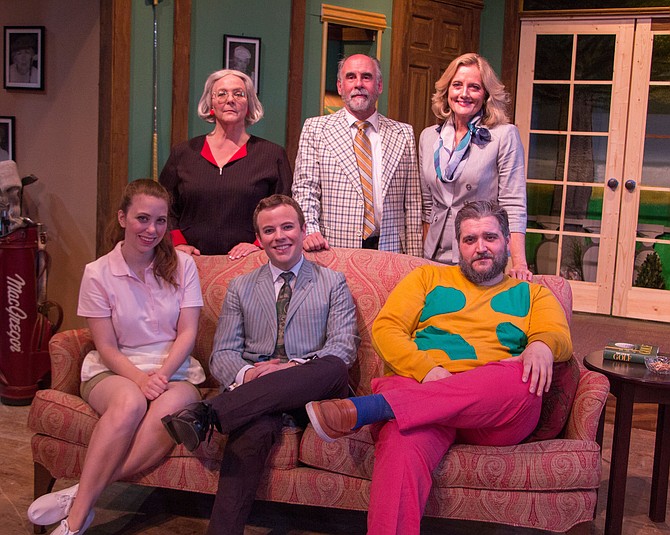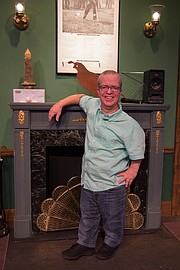 The Little Theatre of Alexandria (LTA) is presenting Ken Ludwig's "A Fox on the Fairway" from June 8-29. A madcap adventure about love, life, and man's eternal love affair with … golf. Ludwig's play will take the audience on a hilarious romp that pulls the rug out from underneath the stuffy denizens of a private country club. Filled with mistaken identities, slamming doors and romantic missteps, this furious-paced comedy recalls the best of the Marx Brothers' classics.
Director Scott J. Strasbaugh had this story on why he decided to direct the play: "I was on the Tee Box of the 11th hole at Augusta National. 'White Dogwood,' a 505-yard Par 4 monster of a hole that begins at Amen Corner, where the wind is often a factor. The tee shot plays downhill and left to right. A pond guards the green to the left and a bunker is strategically placed right center. I was poised. I was ready. 'Thwap!' My drive goes straight up in the air, must have been 300 yards up — directly into the open beak of a brown thrasher. I was stunned. The bird then proceeded to fly my ball towards the green but heading straight for the pond. 'Noooo! You incompetent bugler!,' I shout. But it was too late. That darn featherbrain dropped my ball right in the drink …
"I had to take a drop and lose a stroke …
"My third shot, I knew I was close to the hole, so I just needed to concentrate. I line up to the cup and take my shot, just when at the same time a bumble bee stings me in the ear. 'Yeeeoowww!,' I scream as my ball hooks left, ricochets off a tree and hits me right in the forehead, knocking me out cold before taking two bounces and landing on the beach …
"When I came to, two hours later, I was at the clubhouse being revived by buckets of ice-cold water to the face from (producers) Russ Wyland and Luana Bossolo. They tell me, 'You know ... golfing really doesn't appear to be for you. But have you seen this script by Ken Ludwig called, 'A Fox on the Fairway'? It's a comedic farce. Much like your golf game. Directing it, may be a whole lot easier," he said.
Strasbaugh, a professional actor who played Olaf in the film "Zoolander," said he was trying to restore his dignity. "It was quite embarrassing what happened out there on the course. I had to make funny for real and not by accident. Instead of Tee Time, I had to create comedic time. Instead of a good short game, I had to show a good game of quick wit, lightning fast banter and misunderstood innuendos. I believe with the cast of incredibly talented and equally funny actors, and behind-the-scenes crew we've assembled for this comedy of errors, we accomplished that. Now — if I can just get these dimple indentations on my forehead to go away, I'd be happy," he said.
Brendan Chaney is playing the role Richard "Dickie" Bell, a man about town — or at least he thinks he is. "I would compare him a little to Donald Trump, in that he doesn't seem to have the book smarts but has his own kind of smarts that always gets under people's skin and make them do what he wants. He also doesn't care what people think of his look in a way I think it's a distraction that allows him to get away with some of his antics. However, deep down I think he just wants to be liked," he said.
He said his challenges were: "Learning what chemistry you have with a whole new cast of actors and how to play to everyone's strengths ... oh, and the Mulligan," he said.
Lorraine Bouchard is playing the role of Muriel Bingham, a tough old bird who commands respect. "But she has her secrets and a warm side that only a weasel can bring out," she said, adding, "The audience will forget all their cares when they have fun watching our ridiculous antics."
Ken Kemp plays the role of Henry Bingham who runs Quail Valley Golf and Tennis Club. "(And pulls the strings in the play), doing everything he can to make sure that Quail Valley beats Crouching Squirrel in the hotly contested, annual Interclub Championship. His job is on the line, the pressure is on, and he's not above resorting to some shenanigans to make sure things turn out his way," he said.
He added: "Bingham tends to be long-winded (to put it kindly), so I had some long monologues to memorize. He also speaks in a British accent, and I had to find the right voice for him. When Scott cast me, I was already playing Henry Higgins in 'My Fair Lady,' so I just started from the standard British of Higgins, then I added a generous helping of James Mason, and a dash of the pomposity and gravitas of Kelsey Grammar in 'Frasier.'"
Patricia Nicklin plays the role of Pamela Peabody. "When Pamela is not serving on the executive committee of the board for Quail Valley Golf and Country Club, she stays busy getting married, and then divorced, breaking many hearts along the way. Pamela is sporty, tanned, glamorous, a bit loose, and a bit of a drinker. She knows little about golf, and a lot about cocktails," she said.
As far as challenges, she said: "I don't wear high heels, rarely have a tan, and I've been married only once, to my husband for the last 30 years. I play tennis, not golf, and I don't hang out in bars. However, my inner Pamela has emerged during this play."
Cameron McBride plays the role of Justin Hicks, a sweet and goofy guy who tends to be ruled by his emotions, rather than by his brain. "He feels everything very strongly one way or another, and although that means he's a hard-worker and a loving boyfriend, it also means he gets into trouble and puts his foot in his mouth on occasion. However, at the end of the day he means well, and only wants the best for everyone in life," he said.
Raeanna Larson plays the role of Louise Heindbedder, a waitress at the country club. "She is a little ditzy and a little vacant, but she doesn't do anything by halves. When Louise is passionate about something, she goes all in, whether it's her feelings for her boyfriend or, of course, golf," she said.
The Little Theatre of Alexandria (LTA) is presenting "A Fox on the Fairway" from June 8-29. Show times are Wednesdays through Saturdays at 8 p.m.; Sundays at 3 p.m. Tickets are $21 and $24. The venue is located at 600 Wolfe Street, Alexandria. Visit www.thelittletheatre.com.